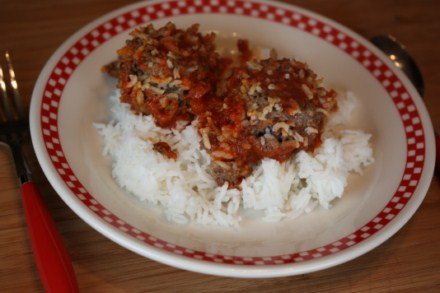 Porcupine meatballs are not exactly gourmet food. They are more of a down home everyday type meal. And they are not a very pretty meal, or a very photogenic one as you can tell from the picture above, but they are so good.
And not only are they good, they are an inexpensive and kid friendly meal that is so easy to make.
The first time I made porcupine meatballs was back in 1995. I had only been married about a year and I came across a recipe in a Taste Of Home magazine and knew I had to try it. It looked easy to make and I had everything in my cupboard to make them. I also knew that I could get ground beef on sale and this was a meal that would make that ground beef stretch.
You see those were our poor days, or at least back when my husband was trying to finish up college and money was very tight. If it was not on sale, or extremely cheap, we did not eat it.
It was also back when meat was a treat for us to eat. It was rarely the star of the meal because I had to make it stretch and these meatballs worked great for that because we always served them over rice which allowed me to stretch this one meal into two or three meals.
Now I know they have rice in them, but I could make them stretch even farther if I served them over rice also. And because I served them that way so often years ago, this is the way we have continued to eat them.
Rice was one of those inexpensive things that we ate a lot of during those years and I loved to find creative ways to use it so that it did not feel like we were just eating rice all the time.
The first few months after we were married, we lived in an apartment near some Asian markets where you could get some really good deals. And I quickly learned that buying rice by the 25lb bags from the Asian Market was much cheaper than I could buy it anywhere else and so we ate a lot of rice. And when I say we ate a lot of rice, I do mean a lot of rice.
And do you know what, rice is still a staple in our house because it is still an inexpensive and easy dish to serve and it is easy to change up and serve many different ways.
So, feel free to serve these how you want to. And if like them with lots of sauce, feel free to double the sauce, I like to do that sometimes and it gives it more sauce if you are serving it over rice.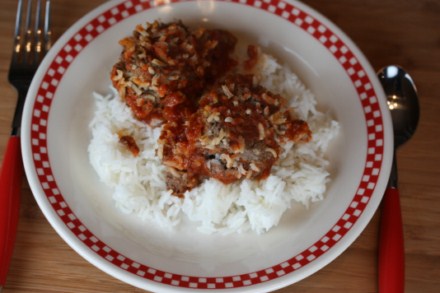 Yield: 6 servings
Porcupine Meatballs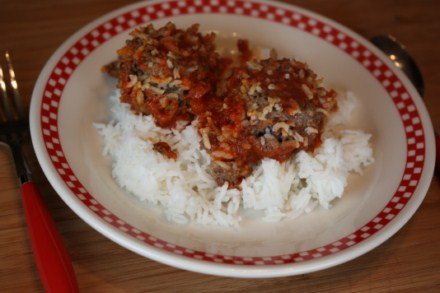 Porcupine meatballs are a great pantry ingredient dinner.
Total Time
1 hour
10 minutes
Ingredients
1/2 cup uncooked long grain rice
1/2 cup water
1 teaspoon salt
1/8 teaspoon pepper
1/8 teaspoon garlic powder
1 pound ground beef
2-8 ounce cans tomato sauce
1 cup water
2 tablespoons brown sugar
2 teaspoons Worcestershire sauce
Instructions
In a bowl combine rice, water, salt, pepper, garlic powder, and ground beef.
Shape into 1-1/2-in. balls. In a large skillet, brown meatballs and drain off any fat. (If you use really lean beef than you may need to add some oil to the pan.)
Combine tomato sauce, water, brown sugar and Worcestershire sauce and pour over meatballs.
Reduce heat, cover and simmer for 1 hour or until meatballs are done.
Notes
If you are gluten-free be sure to read labels to make sure that your ingredients are gluten-free.
Nutrition Information:
Yield:
6
Serving Size:
1
Amount Per Serving:
Calories:

258
Total Fat:

13g
Saturated Fat:

5g
Trans Fat:

1g
Unsaturated Fat:

6g
Cholesterol:

67mg
Sodium:

831mg
Carbohydrates:

12g
Fiber:

1g
Sugar:

7g
Protein:

22g
Nutritional values are approximate and aren't always accurate.