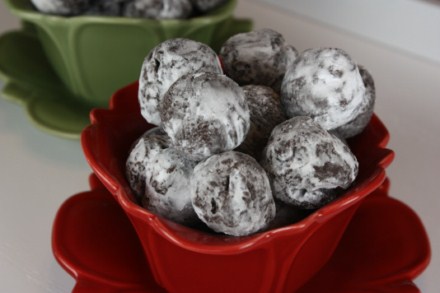 I love the combination of raspberries and chocolate. They go together so well, especially in chocolate truffles.
What is not to like about a truffle?
It is basically chocolate and cream after all and what could be bad about that?
These truffles are very easy to make, but you do have to allow some time for the truffles to harden enough to form into balls.
If you are looking for a last minute candy to make for Christmas this is a perfect one to try. My kids have already requested that I make some more for Christmas Day.
In the past I have always rolled my truffles in chopped nuts, however with my daughter's nut allergies that is no longer an option. This year I tried tossing the truffles in powdered sugar and it worked well, but if you enjoy nuts these would also be good rolled in chopped nuts.

Raspberry Truffles
1 ½ cups milk chocolate chips
1 cup semi sweet chocolate chips
¾ cup heavy cream
2 ½ teaspoons raspberry extract
powdered sugar
Place chocolate chips in a bowl and set aside.
Heat cream until almost boiling.
Pour over chocolate chips.
Add raspberry extract, stir slightly, and let sit for 1 minute.
Whisk until chocolate is melted and mixture is smooth.
Refrigerate until firm enough to scoop into balls. This takes 1-2 hours.
Scoop into balls. I use a cookie scoop. And place on cookie sheet.
Place in the freezer for for about 1 hour.
Take out and roll into balls.
Place some powdered sugar into a ziplock bag and toss truffles in powdered sugar.
Refrigerate for several hours before serving. These can be made several days in advanced.
Enjoy!