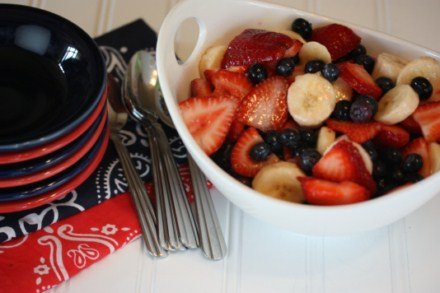 This is the perfect salad for the 4th of July or really any summer barbecue or meal. My girls recently made this fruit salad with some of the fruit we had on hand and when I saw it I knew it would be perfect for my red, white, and blue week.
This fruit salad is not only festive and fun, it is healthy and perfect for summertime gatherings.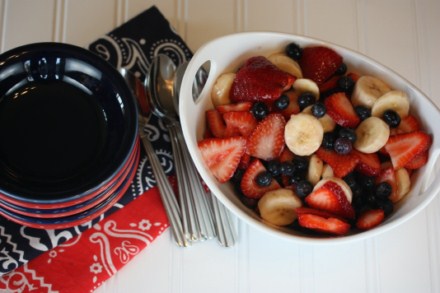 And this is so easy your kids can make it or at least help with it.
Red, White, and Blue Fruit Salad
4 cups sliced strawberries
2 cups blueberries
2 bananas, sliced
1 tablespoon lemon juice
3 tablespoons sugar ( more or less depending on the sweetness of your berries)
In a large bowl combine strawberries, blueberries, lemon juice, and sugar. Stir well.
Carefully add in bananas and stir gently so that bananas do not mash.
Serve and enjoy!
Note: If you are making this ahead of time put everything together and refrigerate until ready to use. Then add bananas just before serving.