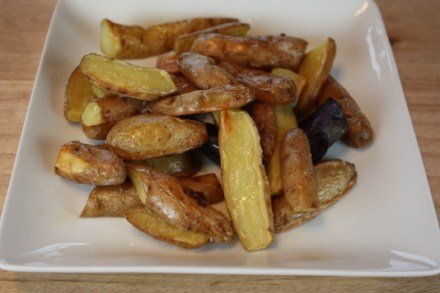 Last week when I posted about buying fingerling potatoes several of you asked how I cooked them.
Well, I have cooked them many ways, but today I wanted to share my favorite way to cook fingerling potatoes. And this is actually one of my favorite ways to cook almost any potato.
I like them simply roasted with a just a little oil and a little bit of salt and pepper.
So easy and so good!
Roasted Fingerling Potatoes
2 lbs fingerling potatoes, scrubbed clean
¼ teaspoon pepper
1 teaspoon salt
2 tablespoons oil
Preheat oven to 400 degrees.
Cut larger potatoes in half so that the potatoes are fairly even in size.
Toss potatoes with oil, salt, and pepper.
Place on a baking sheet and cook for 35-40 minutes or until potatoes are tender and golden.
Serve and enjoy!