All you need are a few ingredients to make these easy scrambled eggs with salmon.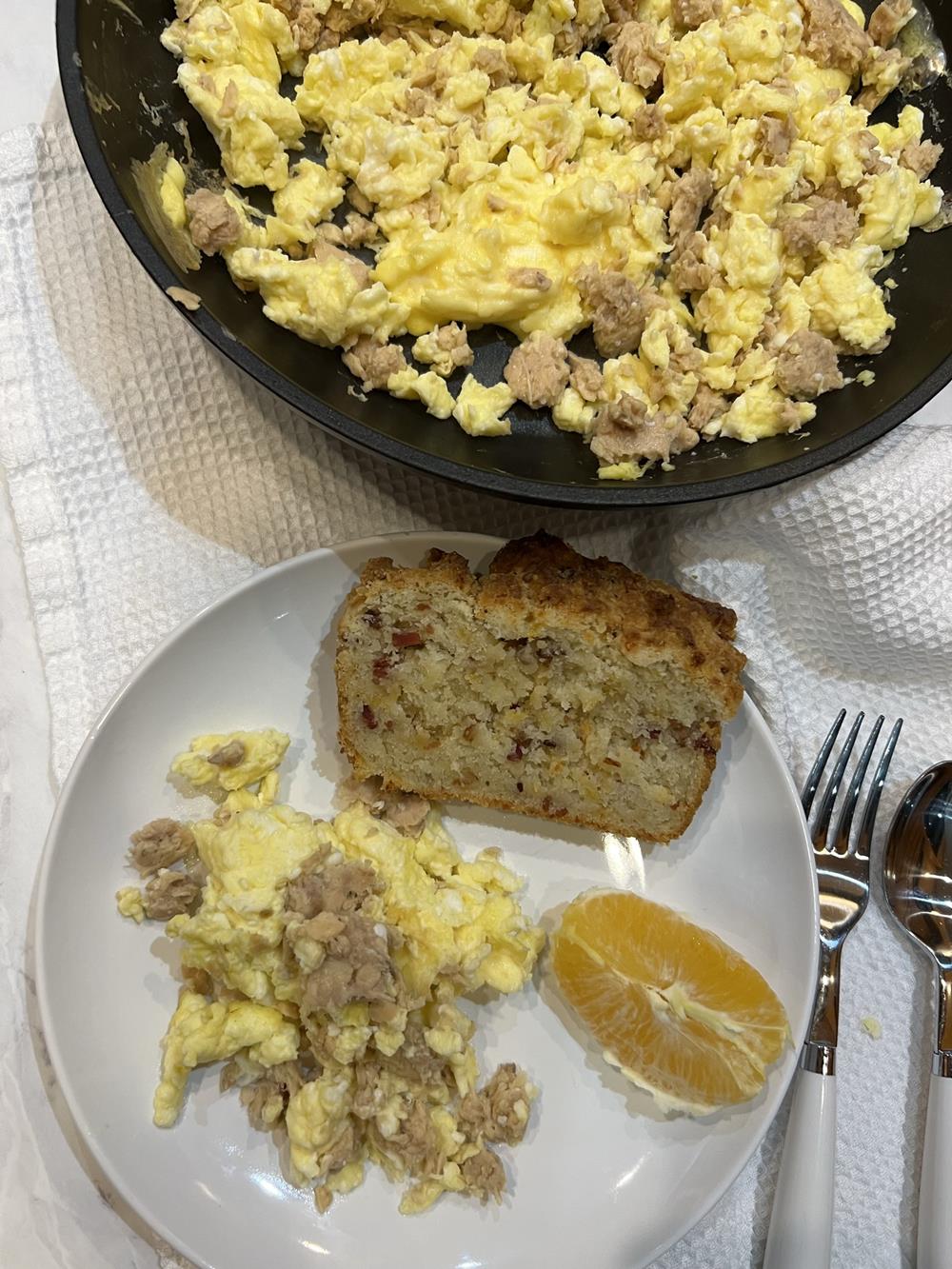 I love salmon. I grew up in northwest Oregon. The town I grew up in has a salmon festival. My love for salmon runs deep.
I love salmon cooked fresh from the river, smoked, and yes even canned salmon.
Canned salmon often gets a bad rap, but it can be a delicious way to eat salmon.
I have eaten salmon and eggs for years. It is a simple, inexpensive, and filling meal. It is also great to use leftover salmon or leftover smoked salmon from the holidays.
When I mention to people though that I love salmon and eggs I often get an odd look. Many people think it is strange so I have never shared the recipe with you.
But then I saw that Martha Stewart has a recipe for salmon and scrambled eggs and I realized that I am not the only one that enjoys the combination. It is actually something that others enjoy as well.
I decided it would be the perfect recipe to start the new year.
It is a delicious breakfast, lunch, or dinner using ingredients that you probably have on hand.
I will say that this isn't really a recipe, just a technique on how I make them. I do share the recipe, but you can easily change this one up.
It is also gluten free and easy to make dairy free.
What kind of salmon should you serve with eggs?
For this recipe, I have used leftover cooked salmon, smoked salmon, canned salmon, and even pouches of salmon or smoked salmon.
A lot of recipes require a specific type of salmon. This recipe though works with just about any type of cooked salmon.
The salmon does need to be cooked for this recipe because it is just added at the end and heated.
Ingredients
eggs
cooked or canned salmon
milk or water
cheese, optional
salt and pepper
Yield: 4 servings
Scrambled Eggs with Salmon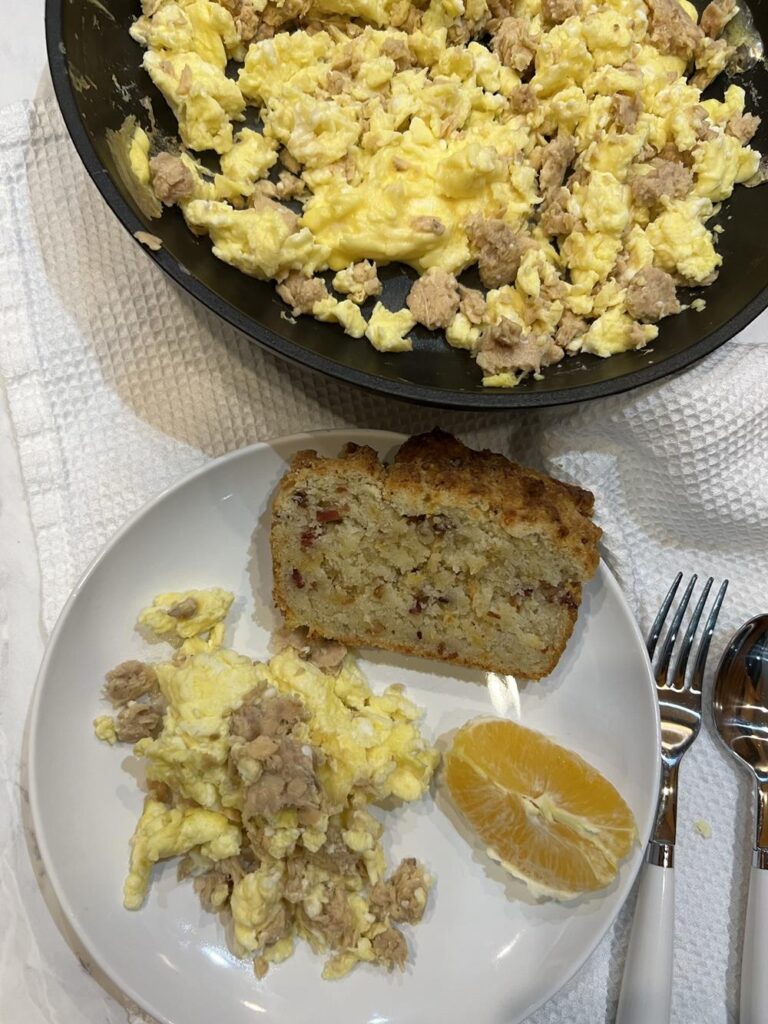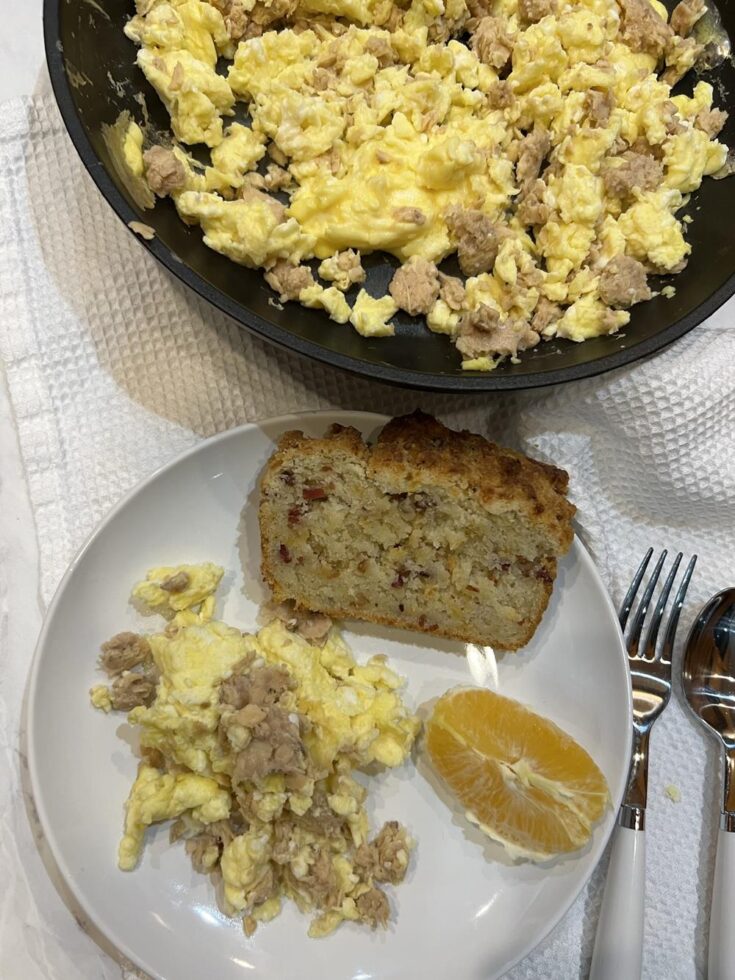 A quick and easy breakfast, lunch, or dinner.
Ingredients
8 eggs, beaten
6 ounces, canned or cooked salmon
2 tablespoons milk ( or water for dairy free )
1/3 cup shredded cheese, optional but really good
2 teaspoons oil
salt and pepper to taste
Instructions
Add milk or water to beaten eggs in a small bowl or measuring cup and set aside.
Heat oil in a nonstick skillet or pan. Or in your favorite pan to cook scrambled eggs.
Add eggs to the pan.
Stir and scramble eggs until cooked through. This takes about 3-4 minutes.
Add in cooked salmon and stir just until heated through.
Stir in cheese.
Salt and pepper as desired
Serve and enjoy!
Notes
This recipe is gluten free and can easily be made dairy free without the cheese and using water in place of the milk.
Nutrition Information:
Yield:
4
Serving Size:
1
Amount Per Serving:
Calories:

293
Total Fat:

20g
Saturated Fat:

6g
Trans Fat:

0g
Unsaturated Fat:

12g
Cholesterol:

409mg
Sodium:

232mg
Carbohydrates:

1g
Fiber:

0g
Sugar:

1g
Protein:

24g
Nutritional values are approximate and aren't always accurate.
More Salmon Recipes
Easy and delicious recipes for using salmon.