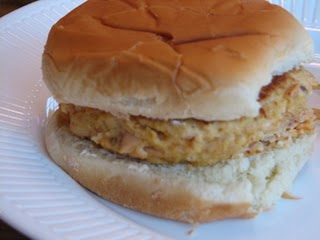 I apologize for the picture above. It is not the best quality, but by the time I discovered the poor quality of the picture the salmon burgers were long gone.
This burger/sandwich is very good and inexpensive to make. You can usually find canned salmon on sale for a good price. I get mine in a four pack at Sam's club. I think the quality of it is a little better then the kind you buy at most stores but either will work fine. I really like salmon so I almost always have some in my pantry. The rest of the ingredients in it are basic things I usually have on hand.
I like to serve this with a green salad but the other day I served it with Kimi's Asian Noodle Salad and it was very good with it.
Zesty Salmon Burgers
1 can (14-3/4 ounces) salmon, drained, skin and bones removed
2 eggs
1/2 cup dry bread crumbs
1/4 cup finely chopped onion
1/4 cup mayonnaise
1 to 2 tablespoons of mustard
1/4 teaspoon salt
1/8 teaspoon pepper
4 hamburger buns or rolls
Lettuce leaves (optional)
Directions: In a large bowl, combine the first eight ingredients. Shape into four patties. In a large skillet, cook patties in butter or oil over medium heat, for 5-6 minutes on each side or until browned. I cook these on my non stick electric skillet and I do not need to use oil. Serve on hamburger buns or rolls with toppings of your choice.