Sheet Pan S'mores might be my new favorite summer dessert. It is all the flavors of s'mores, but without the campfire.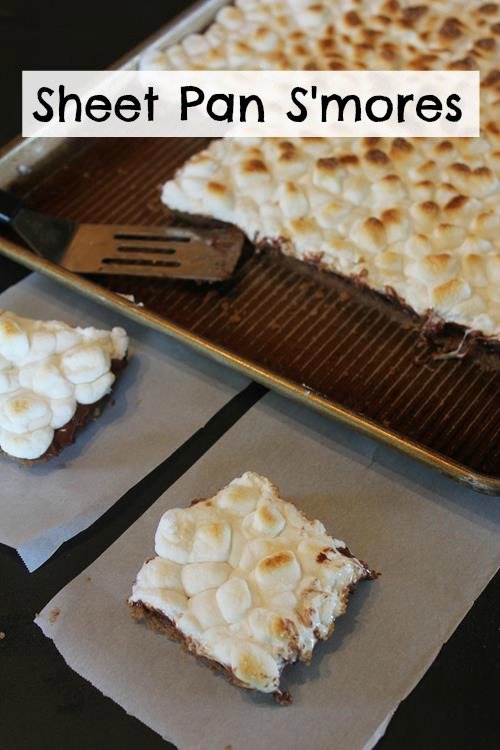 S'mores are the perfect summertime food. When I think of camping food I think s'mores. It isn't really camping without s'mores is it? Or at least according to most kids it isn't camping without roasting marshmallows and eating s'mores.
Here is where I admit though that I am not a huge fan of camping or maybe I should say I am not a fan of camping in Oklahoma. I grew up camping in Oregon. But camping here in Oklahoma, especially during the summer, is a totally different thing.
For those of you that live in OK, TX, KS, and parts of the south you will totally get what I mean. For those of you that live in the more northern states I can explain it in just a few words.
Ticks, chiggers, snakes, and triple digit weather.
There is something about those four things that kind of ruins camping for me.
Now don't get me wrong a lot of people in this part of the country go camping. I am just not one of them.
Since I don't camp, my s'mores are either made when we have a brush pile to burn, we live in the country after all so that does happen occasionally, or over a fire pit during the fall and winter, or in the comfort of my own kitchen.
These sheet pan s'mores fit under the comfort of my kitchen category.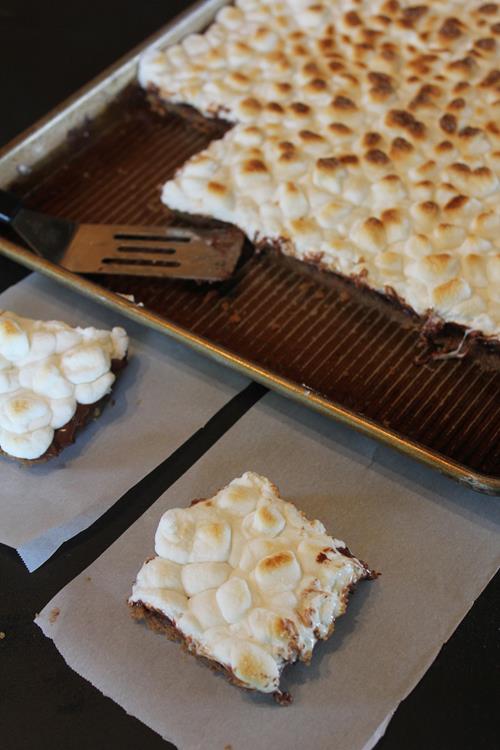 I love these because they are all the flavors of s'mores made in the my kitchen. They are also perfect for serving a large group.
Now I know that some of the fun of s'mores is the whole sitting by a fire toasting the marshmallow experience, but sometimes you might just want s'mores without the campfire. Or sometimes in August when it is triple digit weather, sitting by the fire is the last thing you want to do. 🙂 For those times sheet pan s'mores are perfect!
My favorite tool for making these: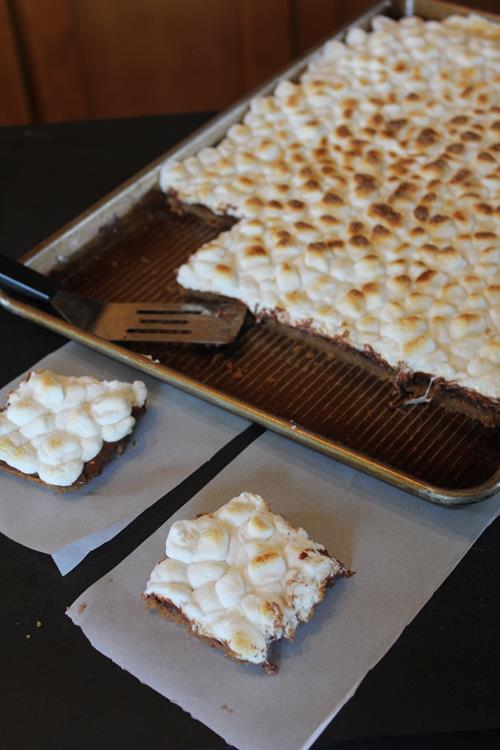 Yield: 24 bars
Sheet Pan S'mores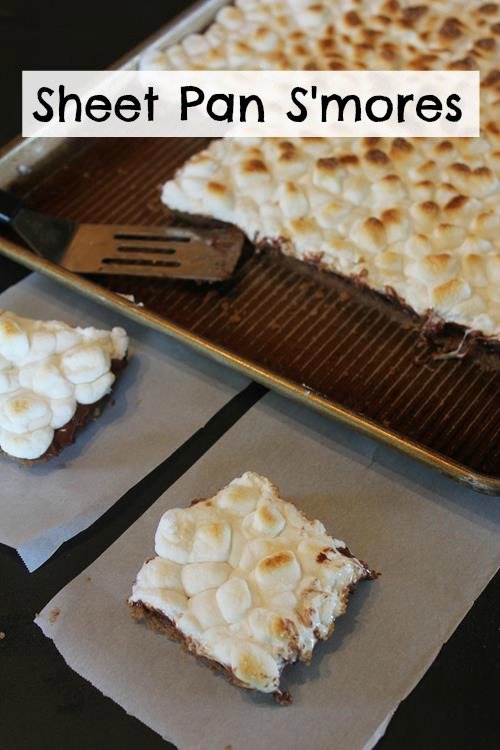 You don't need a campfire to make s'mores. Make these sheet pan s'mores instead.
Ingredients
4 cups graham cracker crumbs ( Use gluten free graham cracker crumbs for gf version )
1/2 cup sugar
1 cup butter, melted
3 cups chocolate chips
16 ounces mini marshmallows
Instructions
Preheat oven to 350.
In a large bowl combine graham cracker crumbs, sugar, and butter. Mix until well combined.
Press crumb mixture into a 17x12 inch, or similar sized, sheet pan.
Bake for 8-10 minutes or until lightly browned.
Sprinkle chocolate chips over crust and bake 2-3 minutes more or just until chocolate chips start to melt.
Spread melted chocolate chips out to cover crust.
Sprinkle marshmallows over chocolate and broil for 1-3 minutes. You have to watch this careful as it broils so that it does not burn. It quickly goes from not done to burned, so keep an eye on it.
Cut into squares and enjoy!
Nutrition Information:
Yield:
24
Serving Size:
1
Amount Per Serving:
Calories:

309
Total Fat:

16g
Saturated Fat:

9g
Trans Fat:

0g
Unsaturated Fat:

6g
Cholesterol:

20mg
Sodium:

143mg
Carbohydrates:

44g
Fiber:

2g
Sugar:

30g
Protein:

2g
Nutritional values are approxomite and aren't always accurate.