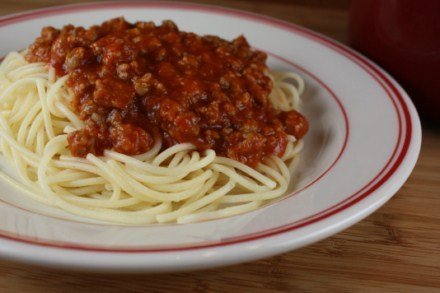 If your family is anything like mine than spaghetti is probably a meal that is often on the menu plan. There is something very kid and family friendly about pasta.
Today's recipe for spaghetti is one I recently came up with. I have another quick and easy spaghetti sauce on my site that my family enjoys, but today's recipe is even easier than my other recipe. Not only that this recipe more closely resembles store bought sauce.
I have never been a huge fan of store bought jarred spaghetti sauces. I do have a few recipes that use them, but in general we prefer homemade sauces. By making my own sauce I can control what goes into it. I can season and adjust it just how I like. When it comes from a jar it is harder to control the seasoning and the sweetness of the sauce.
The trouble with homemade sauces though is that they often take a lot of time to make. My friend Toni posted a great example today of how much time they can take.
I do not usually have a lot of time to spend making a homemade sauce, which is why today's recipe is perfect. This sauce is so quick and easy, yet it is very good.

Simple Pasta Sauce
4- 8 ounce cans tomato sauce
2 teaspoons oil
1 tablespoon sugar ( or a little less)
¾ teaspoons dried basil
½ teaspoon dried parsley
¼ teaspoon garlic powder
1/8 teaspoon black pepper
¼ cup of Italian Cheese or a mix of Parmesan and Romano cheese
cooked ground beef or sausage- optional
You can add mushrooms, onions, or anything else you like in your sauce to this.
Combine all ingredients, but cheese in a pan.
Cook over medium heat, stirring occasionally for 15 minutes.
Remove from heat and add cheese. Stirring until cheese is melted.
Serve with your favorite pasta.