Slow cooked homemade chili without beans gives you the delicious taste of chili without the beans. It is a great recipe to double or triple for several meals or to freeze the extra.
This slow cooked homemade chili without beans is a favorite at our house. It is hearty and delicious!
My husband and I disagree when it comes to chili.
I say the more beans the better because it stretches the meat and makes the chili serve more people for less money. My husband on the other hand thinks that the more meat you have the better the chili is. In fact, he prefers his chili without beans. Usually we end up compromising and I make a very meat chili with a few beans.
I have shared quite a few homemade chili recipes with you over the years, but I realized that I have never shared a chili recipe without beans. A few weeks ago I made a big batch of my no bean chili and I took a few pictures so that I could finally share a no bean chili with you all.
And even though I love beans in my chili, I will admit this is delicious!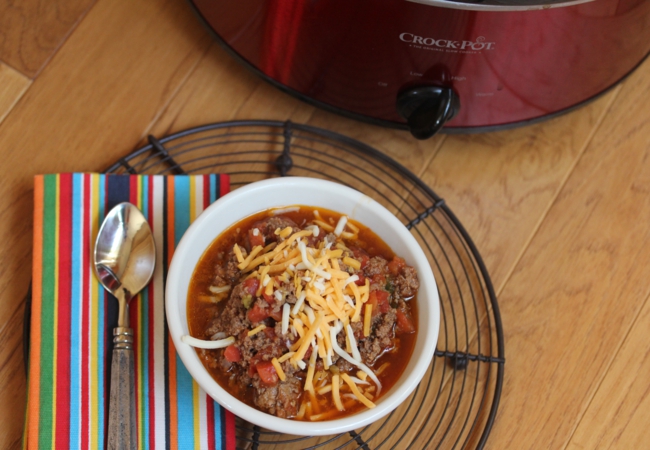 Doesn't that big bowl of chili look good!
Chili is one of my favorite meals to make in a large batch because I love having the leftovers to use for several days. When I made this a few weeks ago I made a double batch and we ate it as chili the first day and I got creative with the leftovers the next two nights for dinner.
I love changing up leftovers so that my family does not feel like they are eating the same meal twice. I will share one of the ways I used the leftover chili next week. So stay tuned for that.
Chili is also one of those meals that freezes great. You will almost always find some in my freezer during the fall and winter.
We like to eat the leftover chili as chili dogs, chili cheese fries, or chili cheese nachos.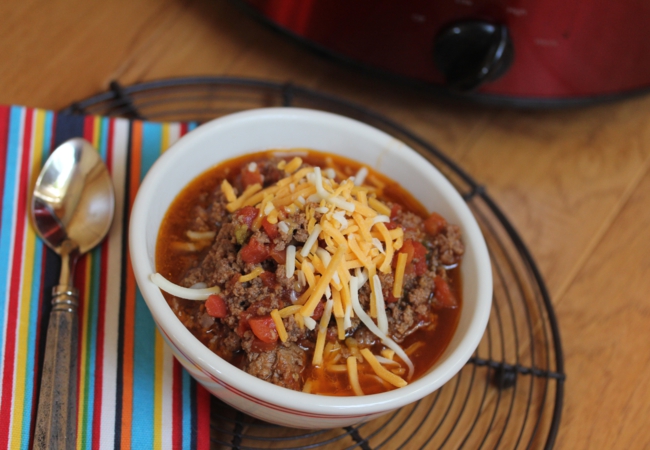 The Recipe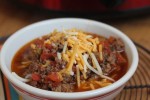 Slow Cooked Homemade Chili without Beans
Ingredients
1 1/2

pounds

ground beef

1- 14 1/2

ounce

can diced tomatoes

1- 10

ounce

can Rotel tomatoes or tomatoes with green chilies

1- 8

ounce

can tomato sauce

1

onion

chopped

1

green pepper

chopped

1 - 2

teaspoons

chili powder

use 1 teaspoon for a more mild chili and 2 teaspoons or more if you like really spicy chili

1

clove

garlic

minced

1 1/4

teaspoon

salt

1/2

teaspoon

paprika

1/4

teaspoon

pepper
Instructions
In a skillet brown beef with onion and green peppers until meat is done and onions and peppers are tender. Drain off any fat.

Place meat mixture in slow cooker.

Add remaining ingredients and stir well.

Cook on low for 6-7 hours or on high for 3-4 hours.