Dairy free mashed potatoes can be easy to make and taste great with this Slow Cooker Dairy Free Mashed Potato Recipe.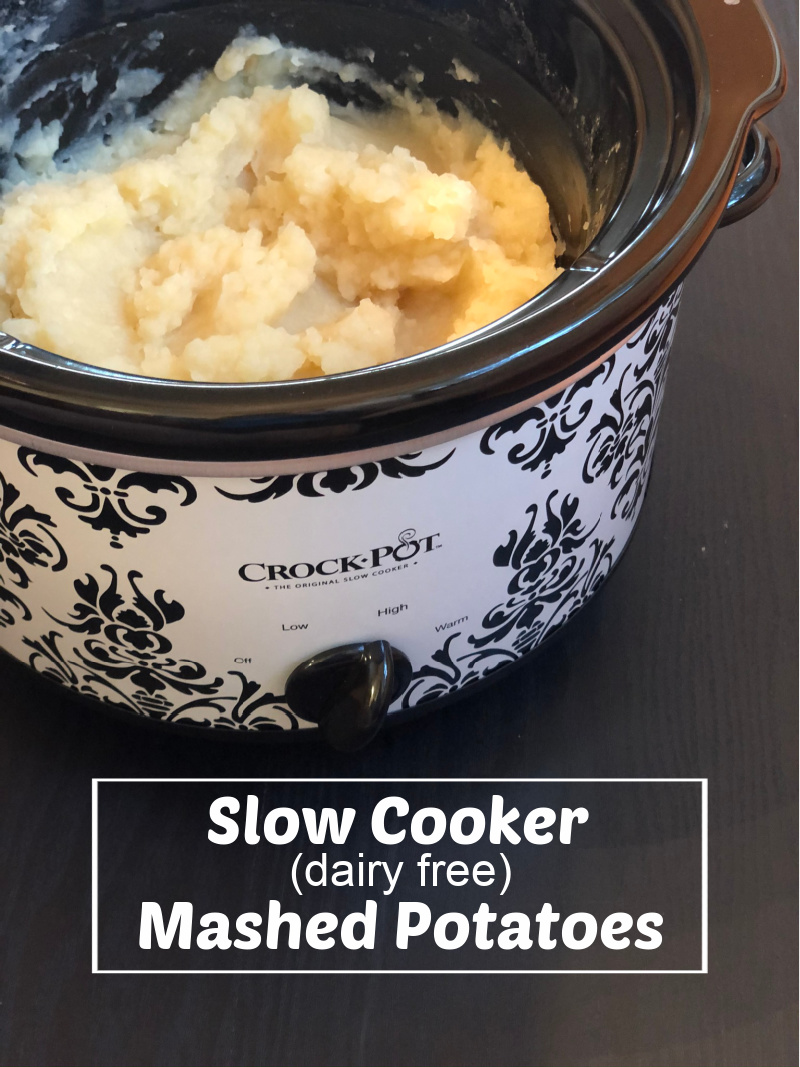 Slow cookers are not just for main dishes. Many side dishes can be made in the slow cooker including potatoes.
Why cooker potatoes in the crock pot?
Cooking potatoes in a slow cooker makes it easy. You can start the potatoes several hours before dinner and have them ready to serve in no time.
It also frees up space on the stove top. This works great during the holidays when stove top and oven space is a challenge. You can put your potatoes in the crock pot and forget about them.
There is no mess when you cook them in the crock pot. Have you ever had potatoes boil over when they are cooking? That doesn't happen when they are cooked in the crock pot.
Tips for cooking potatoes in the slow cooker
Cut the potatoes up small if you want them to cook faster. For longer cooking times leave the potatoes in bigger chunks.
For mashed potatoes slice them instead of cutting them into chunks. This is a tip that I learned recently and it really works. They cook more evenly in the slow cooker when you slice them instead of cutting them into chunks.
Place the potatoes and liquid in the slow cooker and place parchment paper on top. This is a tip for slow cooker potatoes that I learned from an old Cook's Illustrated cookbook. It sounds a bit odd, but it really works.
Place parchment paper on top helps steam them instead of just cooking them. Because of this it helps give them a creamier texture.
I have found that placing parchment paper on top also keeps them from turning as brown when cooking.
Are slow cooker mashed potatoes dairy free?
Not all slow cooker mashed potatoes are dairy free, but this recipe is dairy free. My daughter eats mainly dairy free so I love having a dairy free mashed potato that she can have.
If you are not dairy free this regular crock pot mashed potato recipe is delicious!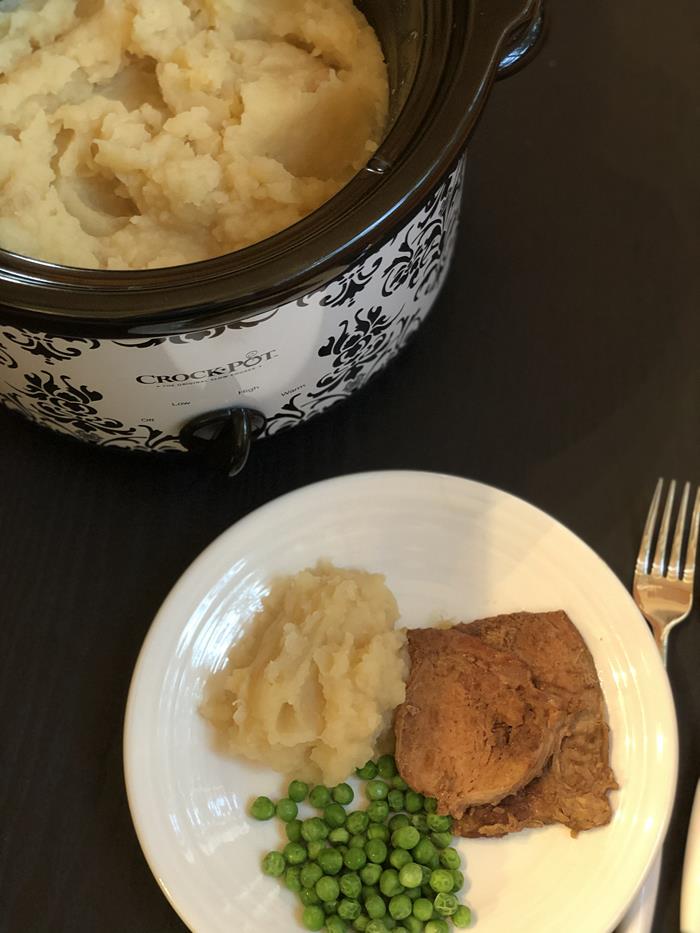 Can I use something in place of chicken broth in the mashed potatoes?
The chicken broth in this recipe helps give it flavor. It adds an extra depth of flavor that is nice since you are missing the flavor from the dairy.
However, you can use water in place of it. You could also use beef or vegetable broth if you wanted a slightly different flavor.
Need more slow cooked potato recipes?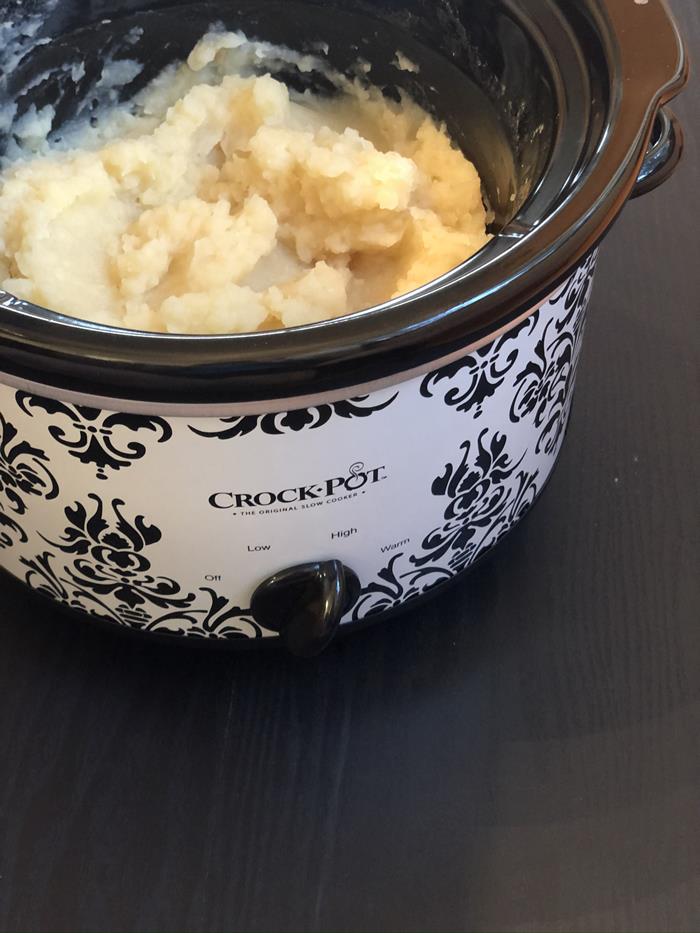 Yield: 8 servings
Slow Cooker Mashed Potatoes Dairy Free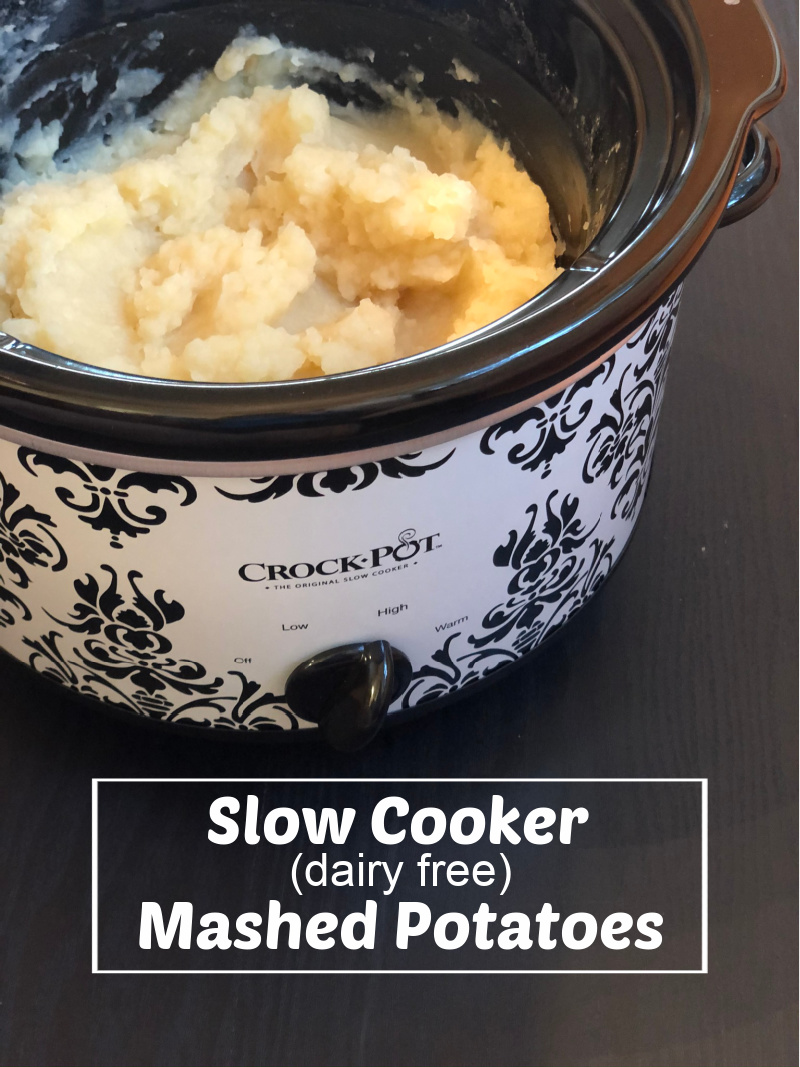 Dairy free mashed potatoes can be easy and delicious with this slow cooker dairy free mashed potatoes.
Total Time
5 hours
10 minutes
Ingredients
3 pounds russet or gold potatoes, cut in half and sliced into 1/4 in or so thick pieces
1 - 14.5 ounce can chicken or vegetable broth
3 cloves garlic, minced
1/2 teaspoon salt or to taste
1/2 teaspoon ground black pepper or to taste
3 tablespoons extra-virgin olive oil
2 teaspoons lemon juice
Instructions
In a slow cooker combine sliced potatoes, garlic, and broth.
Press a sheet of parchment paper on top of potatoes. Folding edges down as needed to cover potatoes. (See notes about parchment paper. )
Place lid on slow cooker and cook on low for 5-6 hours or on high for 3-4. Or until potatoes are tender.
Removed parchment paper.
Mash potatoes with a potato masher.
Stir in salt, pepper, olive oil, and lemon juice.
Serve immediately or leave on warm for 30 minutes to 1 hour.
Notes
The parchment papers is not necessary, but it really helps the texture of the potatoes. It helps steam the potatoes and gives them a more even and creamier texture. I learned this tip from Cooking Illustrated.
Nutrition Information:
Yield:
8
Serving Size:
1
Amount Per Serving:
Calories:

195
Total Fat:

9g
Saturated Fat:

2g
Trans Fat:

0g
Unsaturated Fat:

7g
Cholesterol:

25mg
Sodium:

466mg
Carbohydrates:

13g
Fiber:

1g
Sugar:

1g
Protein:

14g