If you love pumpkin this Pumpkin Baked Oatmeal is sure to become a favorite!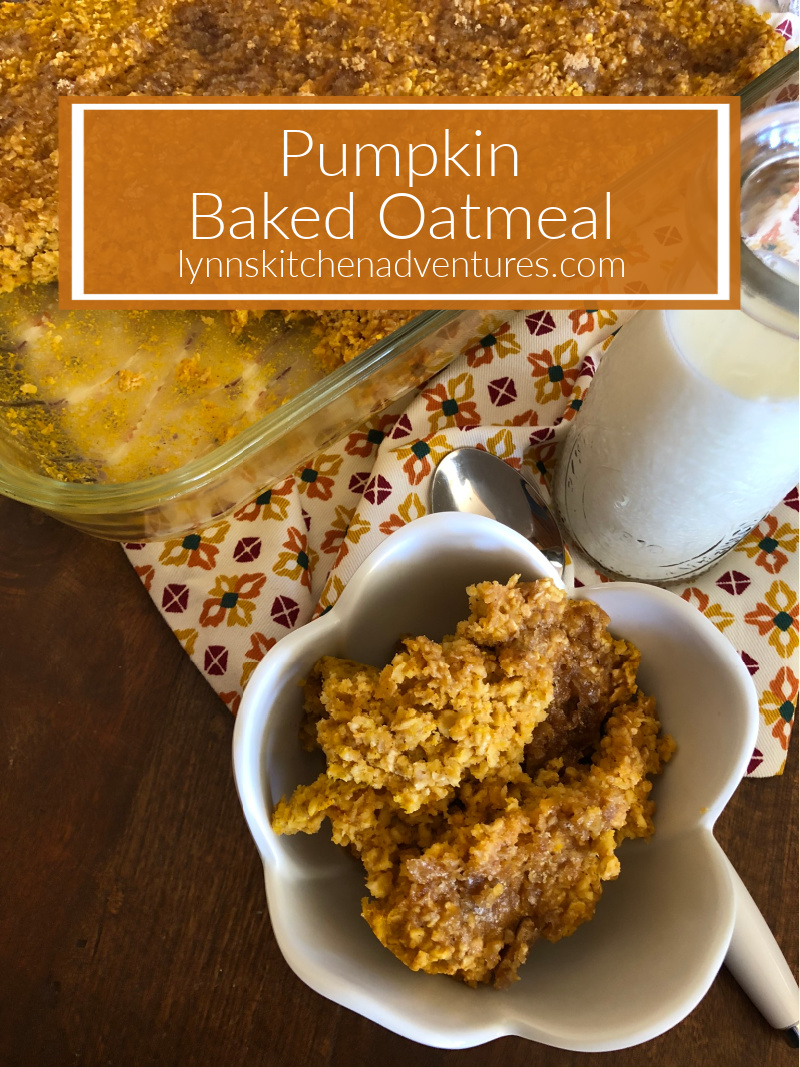 Baked oatmeal will turn the oatmeal haters into oatmeal lovers.
I have had so many readers tell me that family members that hate a regular bowl of oatmeal love my baked oatmeal recipes.
Why is baked oatmeal better? Baked oatmeal is soft but not mushy. It is a cross between a bowl of oatmeal and a dessert.
When I posted my first baked oatmeal recipe way back in 2008 I had no idea how popular it would become. My peanut butter baked oatmeal has been one of the most popular recipes on my site for years.
Baked oatmeal really is a favorite with my readers.
The baked peanut butter oatmeal recipe is one I came up with because my family loved both baked oatmeal and peanut butter. I had never seen anything like it and what I came up with quickly became a family and reader favorite.
Over the years I have been tweaking my basic baked peanut butter oatmeal to see what other versions I could come up with. Pumpkin baked oatmeal is one of the many variations that I have made.
Pumpkin baked oatmeal is perfect for the fall and holidays!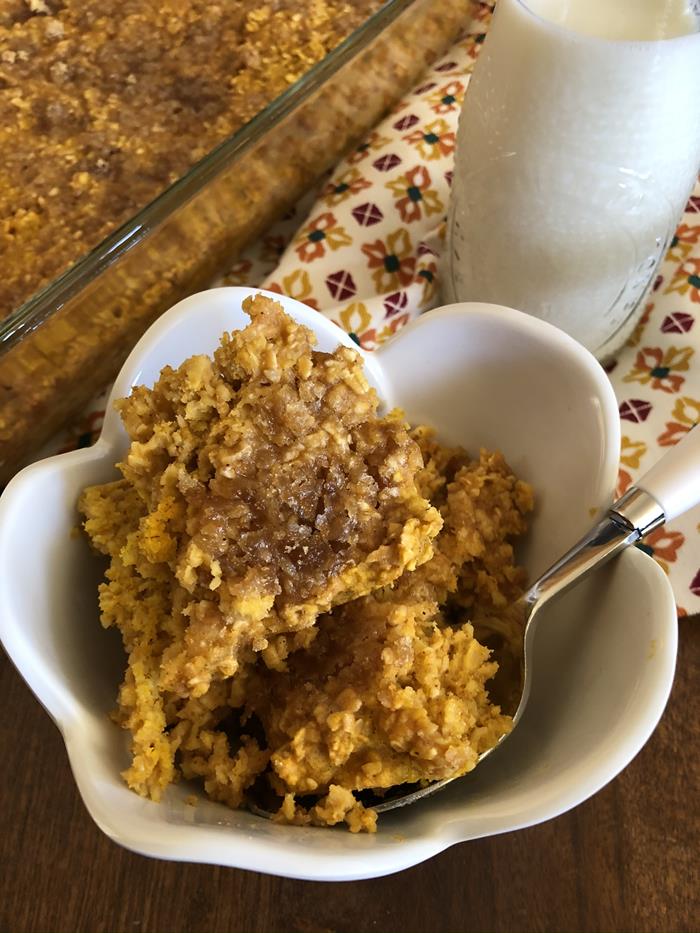 Can I freeze baked oatmeal?
Yes, baked oatmeal, including this pumpkin baked oatmeal, freezes great. I have all kinds of tips for freezing baked oatmeal.
It is a great make ahead breakfast. You can make it ahead and freeze it or just make it ahead of time and keep it in the fridge for a few days. Reheat it in the microwave when ready to eat it.
Can I use old fashioned oats in baked oatmeal?
Yes, old fashioned oats work fine in place of quick oats in baked oatmeal. The texture is slightly different, but it works fine.
Is baked oatmeal dairy free?
Most baked oatmeal is not dairy free, but it can be made dairy free. You can use oil in place of the butter and an alternative milk in place of the regular milk. You can also use water in place of the milk in baked oatmeal.
Is baked oatmeal gluten free?
Because of cross-contamination and how they are grown and processed oats are not considered gluten free. But you can buy and use gluten free oats in baked oatmeal. As long as you use gluten free oats and read labels to be sure that the other ingredients are gluten free bakes oatmeal is gluten free. Not all gluten free people should eat oats, so do your research and eat what is safe for you and your family.
Can baked oatmeal be made into muffins?
Yes, baked oatmeal works great baked as muffins. My peanut butter and jelly baked oatmeal muffins is an example of baked oatmeal turned into muffins.
Most baked oatmeal recipes can be turned into muffins the same way. Make as directed, but place batter into a greased muffin pan. Bake for 15-18 minutes or until done.
Yield: 6 servings
Baked Pumpkin Oatmeal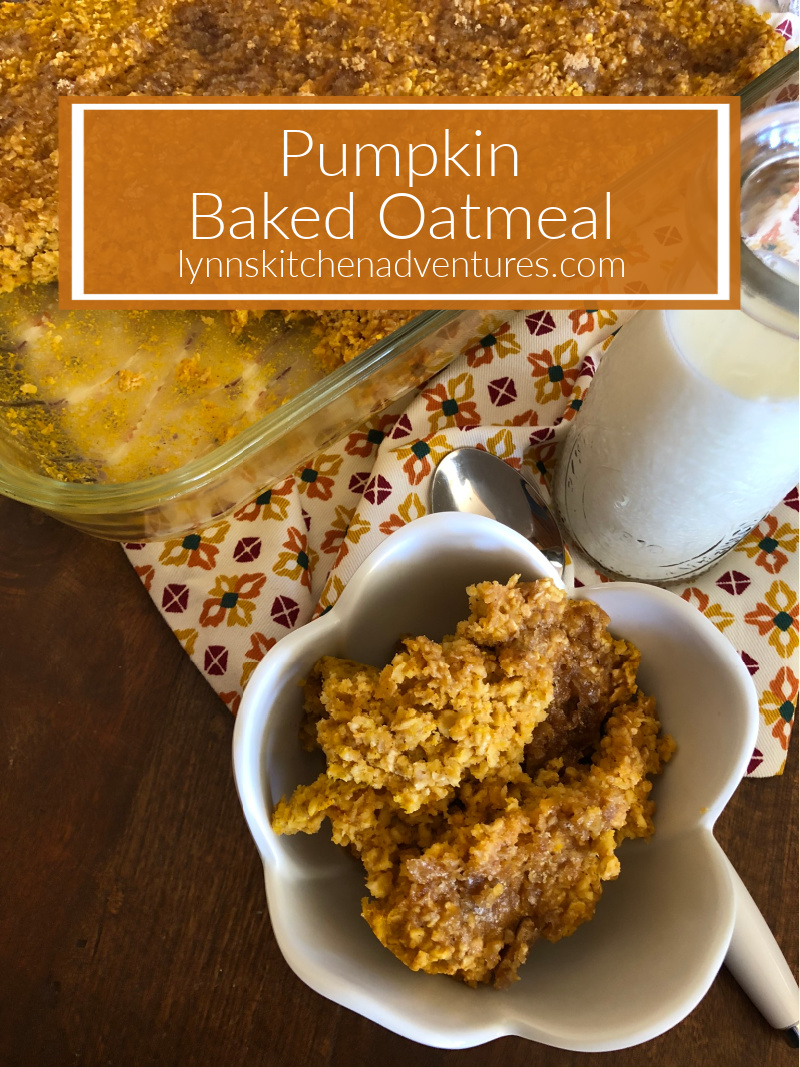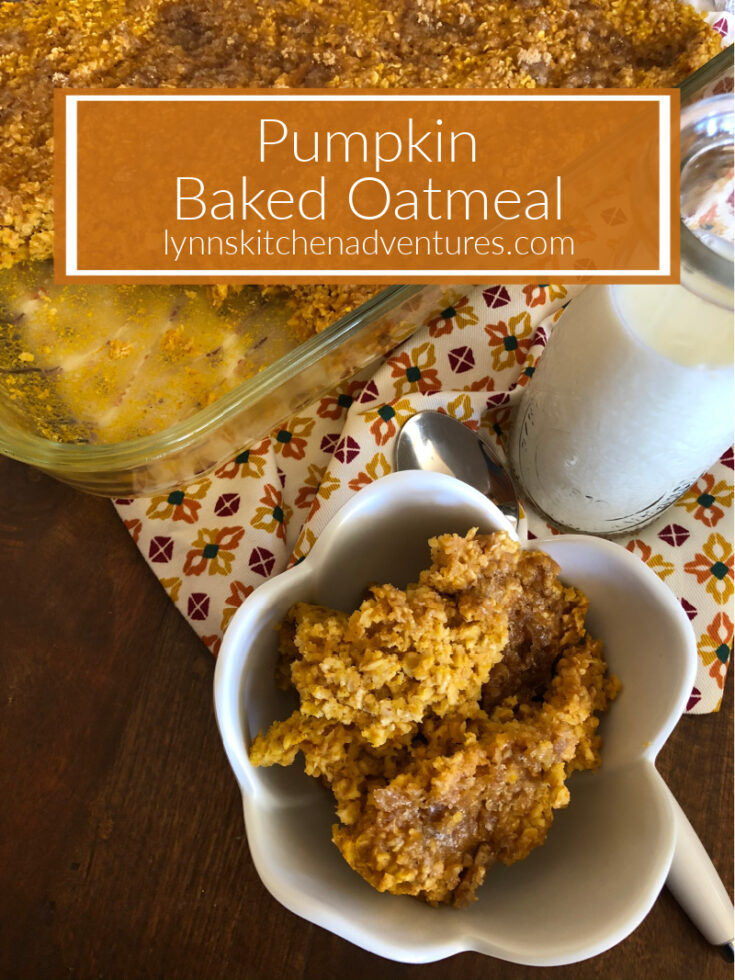 Baked pumpkin oatmeal is a quick and easy breakfast that will turn oatmeal haters into oatmeal lovers.
Ingredients
3 cups quick cooking oats ( use gluten free quick cooking oats for gluten free version)
1/2 cup brown sugar
1 cup milk
2 tablespoons butter
2 eggs
2 teaspoons baking powder
3/4 teaspoons salt
2 teaspoons vanilla
1/2 teaspoons cinnamon
3/4 cup canned pumpkin
1/4 cup brown sugar (for the top)
Instructions
In a large bowl mix together all ingredients except the 1/4 of cup brown sugar for the top.
Spread into a greased 9×13 pan.
Sprinkle remaining brown sugar on top.
Bake at 350 for 20 minutes.
Serve with milk and enjoy!
Nutrition Information:
Yield:
6 servings
Serving Size:
1
Amount Per Serving:
Calories:

335
Total Fat:

9g
Saturated Fat:

4g
Trans Fat:

0g
Unsaturated Fat:

4g
Cholesterol:

75mg
Sodium:

513mg
Carbohydrates:

55g
Fiber:

5g
Sugar:

24g
Protein:

9g
Originally posted November 2010. Updated October 2020.