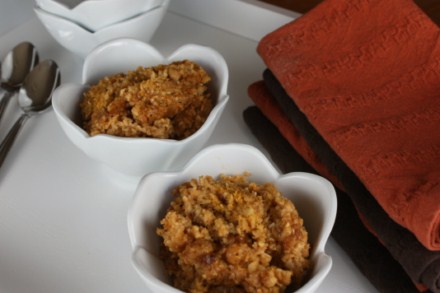 My baked peanut butter oatmeal has been one of the most popular recipes on my site.
I had no idea when I posted that recipe a year and half ago how many of my readers would make and love that recipe.
The baked peanut butter oatmeal recipe is one I came up with because my family loved both baked oatmeal and peanut butter. I had never seen anything like it and what I came up quickly became a family favorite.
Over the last few months I have been tweaking my basic baked peanut butter oatmeal to see what other versions I could come up with.
I have recently come up with two new versions that my family has loved.
I was looking to come up with a version that would be perfect for the fall, but one that would also work well during the holidays. Since pumpkin is the perfect fall and holiday food, I decided to take out the peanut butter and replace it with pumpkin. I also added some cinnamon and extra brown sugar.
What I came up with is now a family favorite that is perfect for the holidays. I have made this several times over the last couple months and my whole family enjoys it.
In fact, I have doubled this recipe several times and we eat it over a few days for breakfast. This makes for a quick and easy breakfast several days a week because all I have to do is reheat it in the morning.
I hope you enjoy this for breakfast as much as we do.

Baked Pumpkin Oatmeal
Ingredients
3 cups




quick cooking oats- I use gluten free quick cooking oats

1/2 cup




brown sugar

1 cup




milk

2 tablespoons




butter

2




eggs

2 teaspoons




baking powder

3/4 teaspoons




salt

2 teaspoons




vanilla

1/2 teaspoons




cinnamon

3/4 cup




canned pumpkin

1/4 cup




brown sugar (for the top)
Cooking Directions
In a large bowl mix together all ingredients except the 1/4 of cup brown sugar for the top.
Spread into a greased 9×13 pan.
Sprinkle remaining brown sugar on top.
Bake at 350 for 20 minutes.
Serve with milk and enjoy!