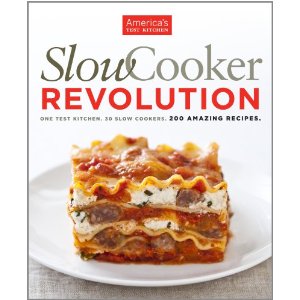 A few months ago I posted about my new Slow Cooker Revolution
cookbook. Since posting about the cookbook, I have had several readers ask what my thoughts were on it.
I waited so long to give a full review of the cookbook because I wanted to have a chance to use the cookbook and try a few recipes out of it.
I have now cooked several recipes including Sticky Chicken and Slow Cooked Carrots from the book and I can honestly say I love the Slow Cooker Revolution
cookbook.
What I really enjoy about this cookbook is that it is different than any other slow cooker cookbook that I have seen. Many slow cooker cookbooks contain the same basic recipes. They contain the same basic ideas and recipes over and over again with very little variation. Many of them also contain recipes for things that I do not think work very well in the slow cooker like pasta and rice.
The Slow Cooker Revolution
cookbook though is different. It contains more modern recipes and ideas. They also deal with some of the issues that arise when cooking in a crock pot. And they share tips to help over come those issues.
I also like the fact that the recipes are a bit more gourmet. I mean there is nothing wrong with most slow cooker meals, but many of them are pretty basic and plain. America's Test Kitchen though takes it up a notch, they make slow cooker food more modern and a little fancier.
I will say though that many of these recipes take more work. They are not dump a bunch of cans and a slab of meat in the crock pot type meals. Many of these recipes take a little more time to get started or require a few minutes for finishing them off at the end of cooking, but I do not mind that. That is part of what makes this book unique and different from others.
I wanted something a little different in a slow cooker cookbook and this book is just that. It is different than any other slow cooker cookbook that I have and it is becoming one of my most used cookbooks.
If you use your crock pot regularly and are looking for some new inspiration I highly recommend the Slow Cooker Revolution
cookbook.
Does anyone else own this? If so what are your thoughts?