Homemade taco bowls are easy and delicious. They are also very kid and budget friendly.
My family loves Mexican food. We eat it often, so I am always looking for ways to change it up and vary the way I serve it.
Tacos are on the menu often, either as regular tacos, chicken tacos, or oven tacos. We also enjoy homemade burrito bowls with spicy pork, cilantro lime rice, and black beans. Taco bowls are a fun way to combine our love of tacos with the same idea of burrito bowls.
I really don't remember where I first saw the idea for taco bowls, but it is the same basic idea that we have done for burrito bowls for years. You basically layer taco ingredients in a bowl.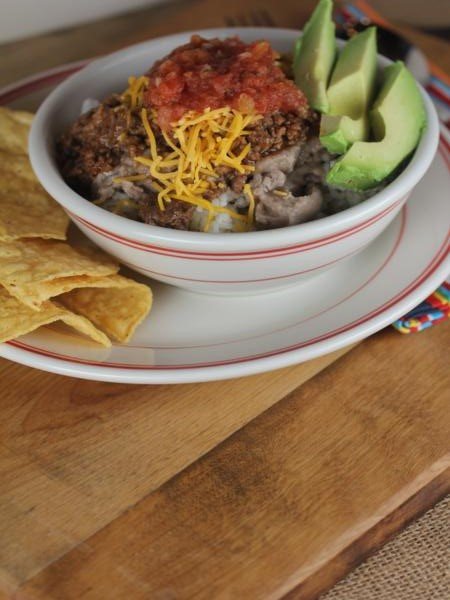 Now this is not really much of a recipe. I basically set everything out that I would for tacos, except instead of tortilla shells, I serve rice. My family loves these because they can just make their own exactly how they like it.
I like taco bowls because it is an easy way to change up taco night. I can even get by with serving tacos one night and taco bowls the next night with the leftovers. I can always use more two for one type meals!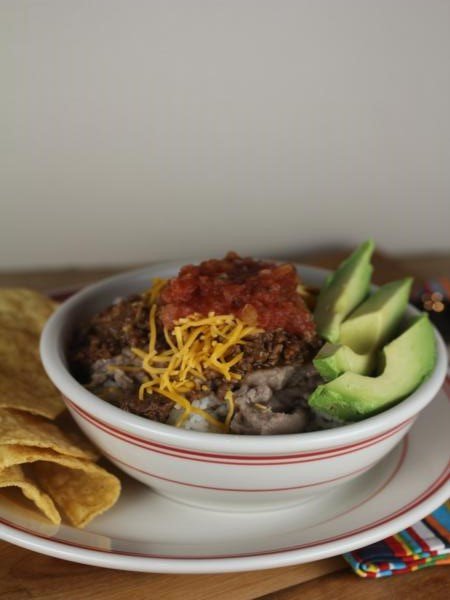 I also like these because the rice makes the meal stretch to feed even more people than regular tacos. Rice is filling and when rice is the base of the meal the rest of the ingredients can stretch because they are add ons to the rice.
Stretching the expensive part of the meal, like the meat and cheese, with inexpensive things like rice and beans is always a good thing.
These would be perfect for serving a crowd, especially a crowd of kids or teens. All you have to do is set everything out and everyone serves themselves. Easy and delicious!
Has your family tried taco bowls before?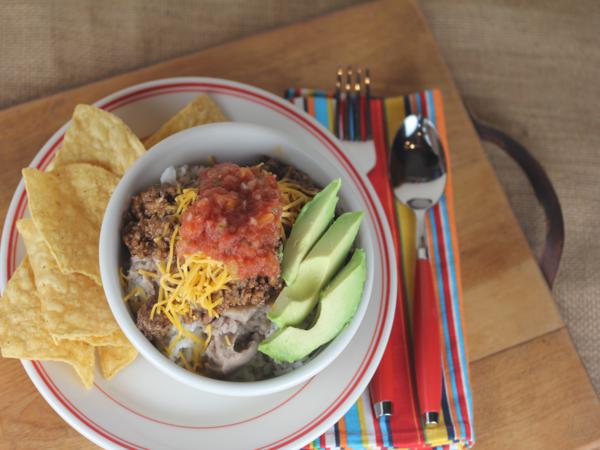 Homemade Taco Bowls
cooked rice
shredded lettuce
shredded cheese
sour cream
salsa
whatever other taco toppings you enjoy
chips for serving optional
Layer ingredients in a bowl.
Enjoy!