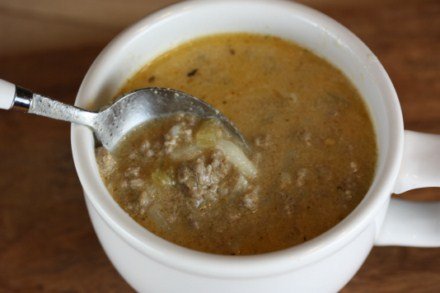 You have probably guessed that my family loves tacos and taco flavored foods. The fact that I have shared taco soup, freezing taco meat, taco pasta, oven tacos, homemade taco seasoning, and others with you, is a sure sign that we love all things taco.
Today for Souper Monday, I am sharing yet another taco flavored recipe with you, but this one is a soup. And today's recipe is a quick and easy soup that is very kid friendly.
Taco Chowder
1 lb ground beef
2 1/2 cups milk
2 cups frozen hashbrowns
1 – 4 ounce can chopped green chilies
2 tablespoons taco seasoning
1/2 teaspoon chili powder
2 cups shredded cheddar cheese
In a large pan brown ground beef. Stir in milk, hashbrowns, green chilies, taco seasoning, and chili powder.
Heat over medium high heat for about 10 minutes or until potatoes are tender and ingredients are well combined.
Stir in cheese until melted.
Serve and enjoy!