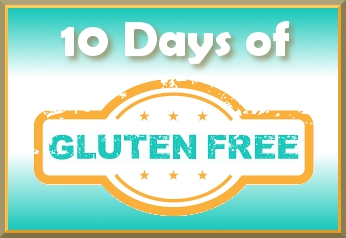 Today's Subject for 10 Days of Gluten Free is teaching your kids how to cook. I love this subject and think it is so important that I even wrote an ebook about it.
When you are dealing with gluten free eating, or really any food allergy or issue, you realize how important the skill of cooking is.
Most gluten free people cook the majority of their meals and food at home. Eating out is often difficult and risky. And although there is now quite a bit of gluten free packaged food available is it often hard to find or expensive. There are also some things that you just can't find.
If you are like me you cook breakfast, lunch, and dinner for yourself and your family everyday. That is 21 meals a week, plus snacks, desserts, etc.
Cooking at home is a way of life for those that eat gluten free, which means cooking is an important skill to know. And if your child is gluten free it is a valuable skill to teach them.
They will need to know how to cook when they are out on their own and navigating the gluten free world on their own. Take the time to teach them how to cook when they are young.
Start simple and work to harder things, but teach them how to cook.
My girls started by learning to make simple things and we have slowly worked our way up to harder things. Both my girls now know how to make homemade pudding on their own. We are slowly adding things like gluten free brownies and baked goods.
My tip for today is simply to take the time to teach your gluten free kids how to cook. It is a skill they will be very grateful to know.
For more great gluten free information and giveaways please visit the other bloggers joining in on the 10 Days of Gluten Free.

Getting Started – Linda @ The Gluten-Free Homemaker

Resources – Wendy @ Celiacs in the House

Traveling – Karen @ Gluten-Free Travel Blog

Eating Out – Heather @ Gluten-Free Cat

Frugal Tips – Janelle @ Gluten Freely Frugal

Cooking – Carrie @ Ginger Lemon Girl

Baking – Jules @ Jules Gluten Free

Lunch Boxes – Tessa @ Tessa the Domestic Diva

Shopping – Laura @ Gluten Free Pantry

I hope you will join us for 10 Days of Gluten Free! GIVEAWAY OVER EMMA'S COMMENT ON THE PLAGHDOUGH POST WON. Winner chosen by Random.org
And here are the details for my giveaway.
I am giving away one $25 Bob's Red Mill gift card that is good for their online store and one copy of my Cooking 101 For Kids ebook to one reader.
This giveaway is limited to U.S. residents 18 and older.
You are allowed one entry per "10 Days of Gluten Free" blog post for a total of 10 entries on this blog.
Enter by leaving a comment on this post (and other 10 Days of GF posts)
The giveaway begins May 7, 2012 and ends at 11:59 pm eastern time on May 18, 2012.
No purchase is necessary. Odds of winning are based on the number of entries. The winner will be randomly chosen and will be contacted by email. The winner will have 48 hours to respond. If the winner does not respond, a new winner will be randomly chosen.