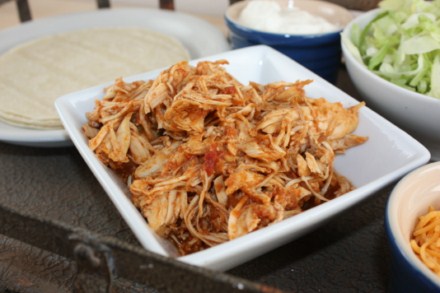 This is one of those recipes that is almost too simple to post. However, it is really good, so it is worth posting.
We love my easy chicken tacos, but since tacos and other Mexican type meals are often on the menu plan, I like to have variety.
Not only that, I like to freeze different taco and burrito type fillings ahead. Although, we like my chicken taco filling, I prefer something with a little more sauce as a freezer meal.
This recipe is perfect for making a large batch. You can cook it, shred it, and freeze it in the sauce. Then you can use the filling for tacos, burritos, enchiladas, or even nachos.
Different types of taco meat are my favorite freezer meal to make because they are so versatile. You will almost always find Mexican chicken and beef taco meat in my freezer.
This amount is usually plenty for us for one meal and for at least one freezer meal.
Yield: 6 servings
Crockpot Salsa Chicken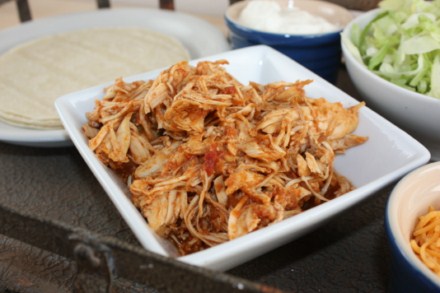 Make Mexican night easy with this slow cooked salsa chicken.
Total Time
4 hours
10 minutes
Ingredients
4 chicken breast ( I use boneless skinless)
1 - 8 ounce can tomato sauce
1 cup salsa
1 package taco seasoning
1 teaspoon cumin
Instructions
Combine ingredients and cook in crockpot on low for about 4 hours or until done.
Shred meat and serve with sauce as taco, burritos, nachos, etc.
Leftovers freeze well.
Notes
If you are gluten-free be sure to read labels to make sure that your ingredients are gluten-free.