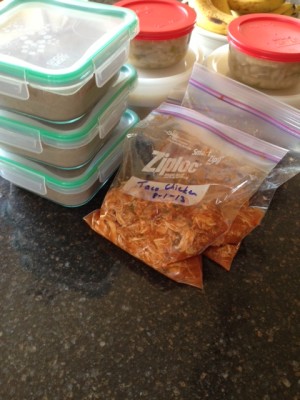 Today I am teaming up with Jessica from Life As Mom and we are talking freezer cooking. Over in my main section I am sharing a few of my favorite tips for freezer cooking. All the tips I shared work for gluten free freezer cooking, but I thought it would be a good time to talk some specifics about gluten free freezer cooking
I used to freezer cook all the time. I would often spend a whole day cooking and putting things in the freezer. It worked well for that stage of my life, but once I went gluten free my freezer cooking changed quite a bit. Today I thought I would share a few of the things that I have learned about gluten free freezer cooking.
Do Not Freeze Gluten Free Pasta
Before I went gluten free I would often freeze lasagna and other cheesy pasta type casseroles. They always froze great with regular noodles. Gluten free noodles on the other hand do not freeze well. I have found the texture just changes to mush. Which is not really a good thing.
When it comes to gluten free pasta dishes, freeze the sauce. This works well with spaghetti sauce, etc.
Soups and Chili
Most chili and many soups are gluten free as long as you use gluten free ingredients. Chili and soup freeze really well and work great for a quick and easy dinner. They also work great frozen in small containers for lunches.
Taco Meat
I mentioned this on in the post on my main section, but since it is my favorite thing to freeze I had to mention it again. Taco meat is easy to make gluten free with gluten free seasoning and it is so versatile for quick and easy gluten free meals.
Baked Goods
Gluten free baked goods are perfect for freezing. Gluten free muffins, cookies, breads, etc., do not seem to last as long as regular baked goods, so freezing them is a great option. And I love having muffins and cookies to take out for breakfast, lunches, and snacks. It makes gluten free eating so much easier.
Do you have any tips for gluten free freezer cooking? What is your favorite gluten free freezer foods?