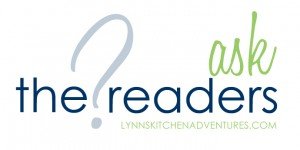 A few weeks ago I received an email from a reader that I knew would be perfect for an Ask the Readers question. You see it involves celery and celery is right up there on my list of least favorite foods.
In fact, celery is probably in the top ten of least favorite foods for me. And really I have no idea why except that it tastes like dirt. Not that I really know what dirt tastes like, but it has that dirty type taste to me. It also has a bitter taste. Add the stringy texture and that makes it even worse. Just keeping it real for you all.
I know many people love it raw, in salad, or with peanut butter or another filling, but not me. I know it is healthy. It is also the base for many recipes especially in the south and creole type cooking.
I just leave it out, yes, yes I do……
In fact, I don't think I have any recipes on this site that contain celery. Yes, I know that is bad, but really I don't use it. I can't remember the last time I even bought it. I think it was quite a few years ago for a homeschool project, so it was not even to eat.
When it comes to tips for using celery I am clueless. So, I am hoping some of you can help this reader with her celery question.
What is the best way to clean celery? I usually use a veg brush, but it's time consuming & what about all those strings? I'm sure there is an easier way. Also can you freeze it for later use in recipes? I hate to waste food, but celery often gets thrown away in my house because it goes bad. Thanks for any advice you can give me.
Do you have any tips for cleaning and storing celery?