Gluten free flours and bananas just go together. The strong flavor of bananas works really well in covering up some of the tastes that gluten free flours have. The moistness of the bananas also helps the texture of gluten free baked goods.
In our house we love bananas. And although we eat a lot of them, I almost always have a few over ripe ones sitting on the counter. These banana bars work perfectly for those times you need to use them up.
These gluten free chocolate chip banana bars are perfect for lunch boxes and snacks. They also freeze great. You really cannot go wrong with these.
Looking for more gluten free banana recipes? Here are a few of my favorites.
Banana Baked Oatmeal (Use gluten free oats)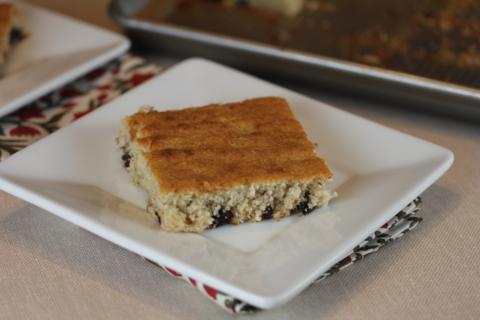 Gluten Free Chocolate Chip Banana Bars
1/2 cup butter, softened
1-1/2 cups sugar
2 eggs
1 cup (8 ounces) sour cream
1 teaspoon vanilla extract
¾ cup sorghum flour
¾ cup potato starch
½ cup tapioca flour
1 1/2 teaspoons xanthan gum
1 teaspoon baking soda
1/4 teaspoon salt
2 medium ripe bananas, mashed  or equal to 1 cup
1 cup semi sweet chocolate chips
In a mixing bowl, cream butter and sugar.
Add the eggs, sour cream and vanilla.
Combine the sorghum flour, potato starch, tapioca flour, xanthan gum, baking soda, and salt and gradually add to the creamed mixture.
Stir in bananas until combined.
Stir in chocolate chips.
Spread into a greased 15-in. x 10-in. x 1-in. baking pan. ( My pan is 11x17x1 and it worked fine but they are a little thinner)
Bake at 350° for 25-30 minutes or until a toothpick inserted near the center comes out clean.
Cool and enjoy!