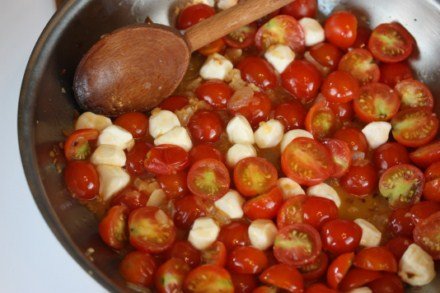 Tomato mozzarella saute is a simple and delicious side dish.
It is healthy and easy to make. And the best part is that it only calls for a few ingredients. So easy and so good! I love recipes like that.
Now for a question. Do you like or buy fresh mozzarella cheese? I love to use it during the summer time because it pairs so nicely with tomatoes. It is also delicious on pizza. What are your thoughts on it?
Tomato Mozzarella Saute
1/2 cup onion chopped
1 tablespoon oil
1 clove garlic, minced
2 1/2 cups cherry tomatoes, halved
1/4 teaspoon salt
1/8 teaspoon ground black pepper
4 ounces fresh mozzarella cheese, cut into 1/2 inch chunks
In a skillet heat oil and cook onion until tender. Add garlic and cook for 1 minute longer.
Add tomatoes, salt, and pepper and heat through.
Remove from heat and stir in cheese.
Serve immediately and enjoy!
Adapted from Taste of Home