Triple Berry Chicken Almond Spinach Salad is a simple main dish salad that is quick and easy to make!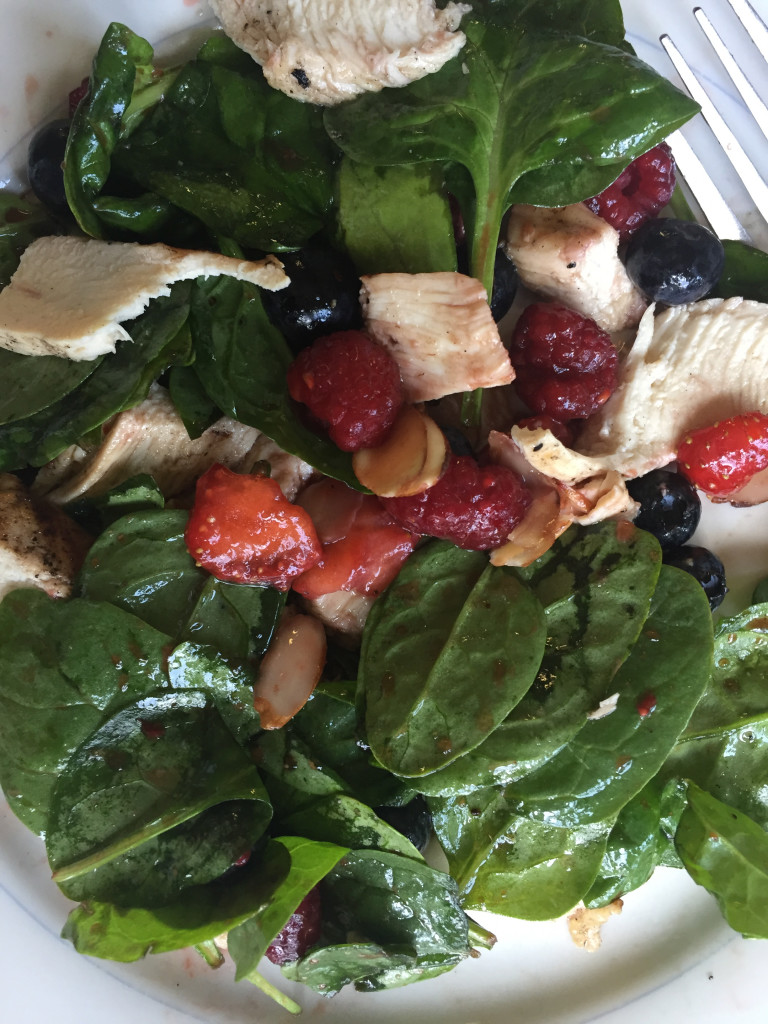 Earlier this month when I was visiting my parents in Oregon they had a heat wave. It was in the high 90's, which is not really hot for some parts of the country, but for NW Oregon in June, it was a heat wave.
Heat doesn't really bother me. I have kind of gotten used to it after 22 years in Oklahoma, but I will admit that I have been spoiled by air conditioned everything in Oklahoma. Oklahoma has heat, sometimes extreme heat, but we also have air conditioning. Oregon not so much.
My parents, and many others that I know, don't have air conditioning. So 90+ degree weather is actually pretty hot. They have the advantage that is usually cools off at night, but there can still be a few miserable hours in the afternoon and early evening.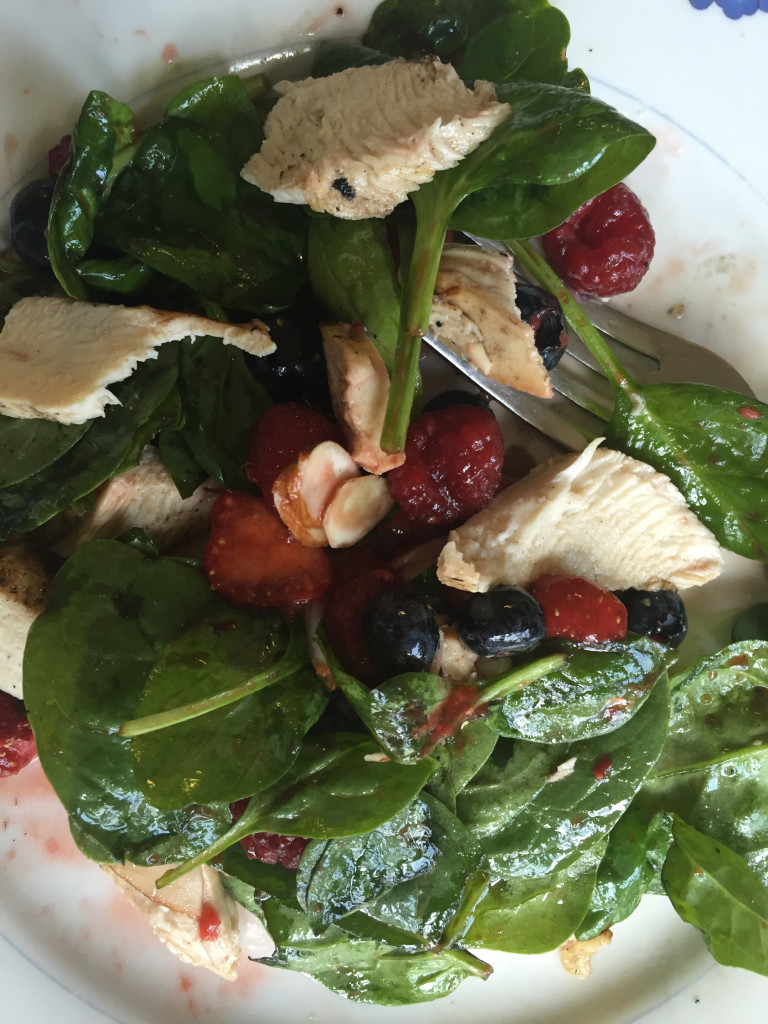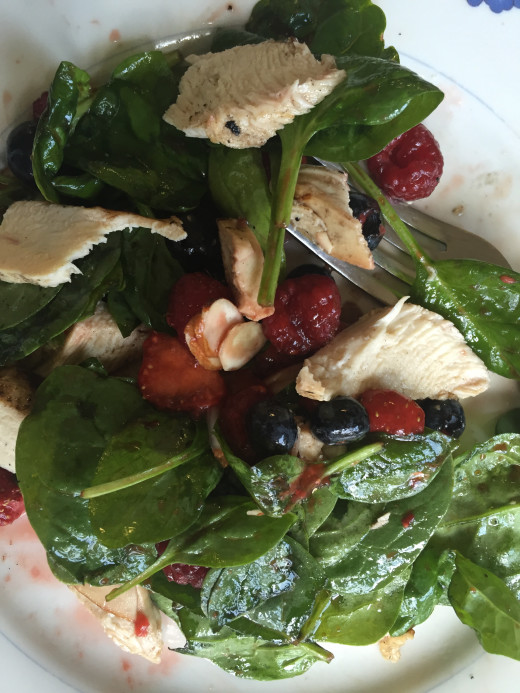 The last thing we wanted to do when the weather was hot at my parents was turn on the oven. So we stuck to simple meals that did not heat up the house.
One night I made this easy salad and it was so good. The three kinds of berries went perfectly with the chicken and almonds. This is basically my triple berry salad with chicken and almonds added. Delicious!
We used grilled chicken, but any kind of cooked chicken would work in this. Rotisserie chicken would be really good in this.
My oldest daughter, who has a nut allergy was not with us, so I put sliced almonds in this. Pecans would have worked as well. If I make this at home I will leave the nuts out. If you can have nuts definitely add them in. The nuts add a nice crunch to the salad.
I apologize for the poor pictures on this one. Since I was on vacation I just quickly took these pictures with my phone.
And if you don't have three kinds of berries, just use what you have. This could easily be made with just one or two kinds of berries and still be delicious!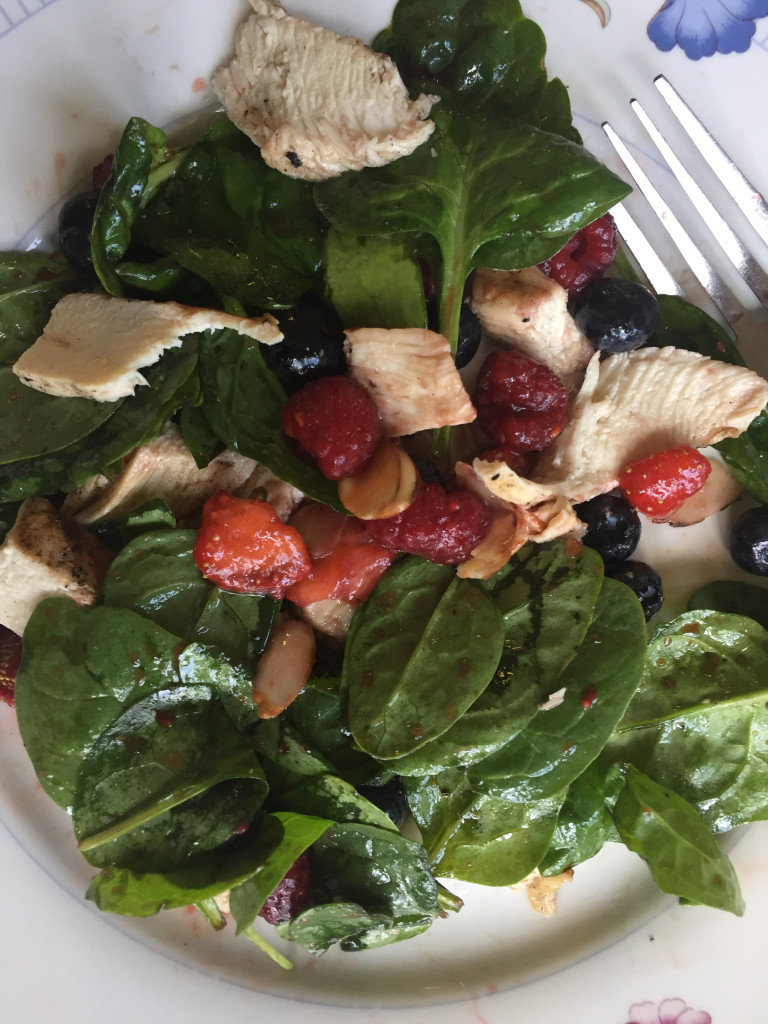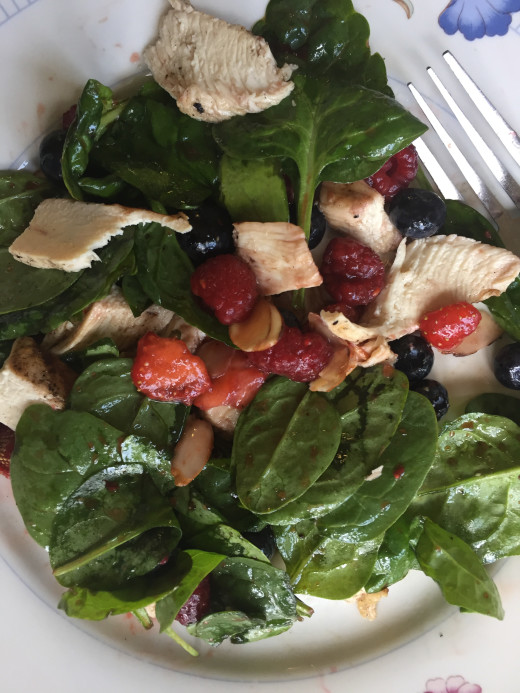 Yield: 6 servings
Triple Berry Chicken Almond Spinach Salad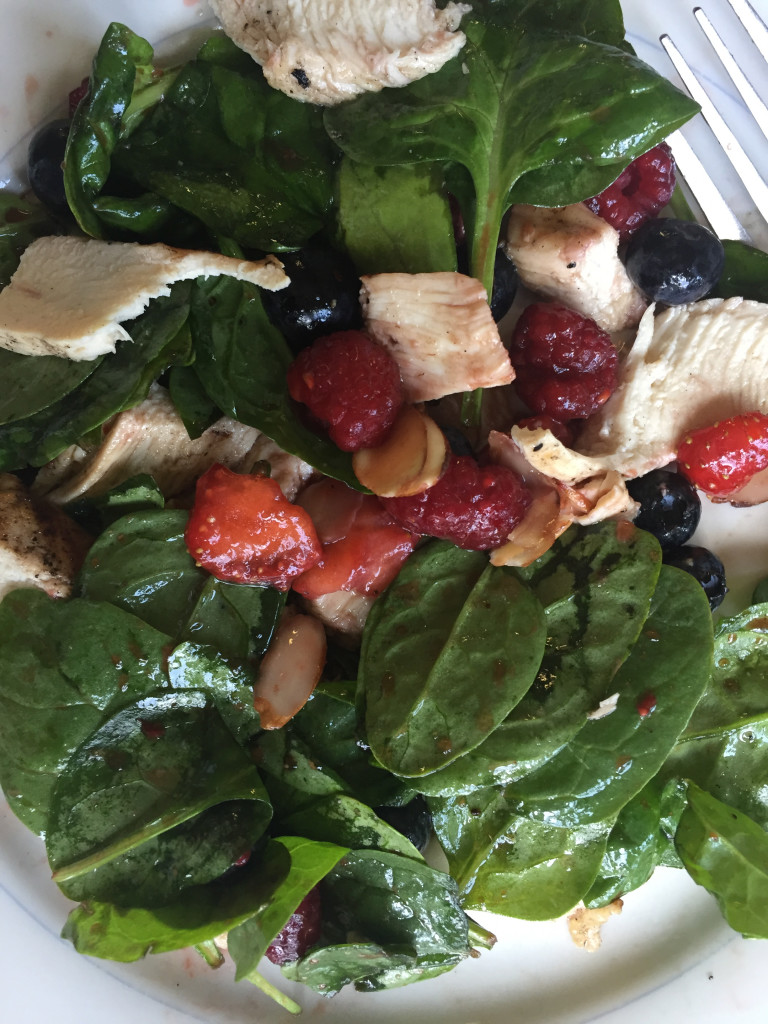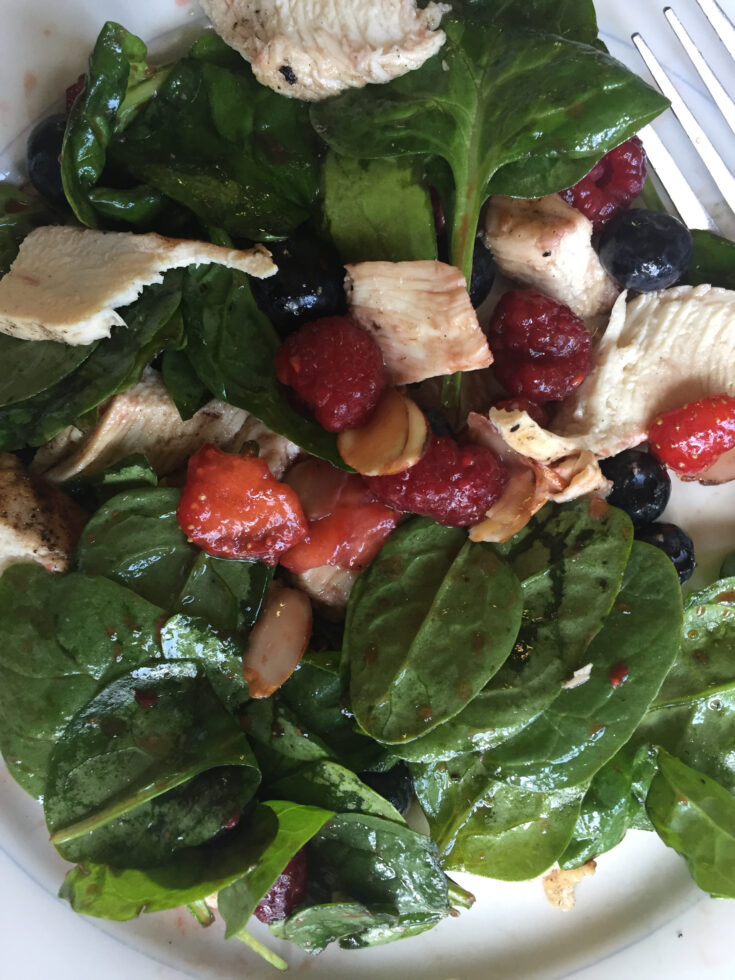 Triple Berry Chicken Salad is a delicious main dish salad or lunch for any day of the year.
Total Time
2 hours
5 minutes
Ingredients
1/4 cup sugar
1/4 cup oil
2 tablespoons balsamic vinegar
1/4 teaspoon Worcestershire sauce
1/4 teaspoon onion powder
1/4 teaspoon salt or to taste
10 ounces fresh spinach, rinsed and dried well
3 cups cooked chicken sliced or cut into bite sized pieces
1/2 cup sliced almonds
1 cup sliced strawberries
1 cup blueberries
1 cup raspberries
Instructions
In a bowl whisk together sugar, oil, balsamic vinegar, Worcestershire sauce, onion powder, and salt.
Place in refrigerator for several hours. This helps the sugar dissolve and the flavors to blend.
For serving combine the spinach and dressing in a large bowl. Toss to coat well. I like to start with part of the dressing and toss and add more as needed.
Stir in chicken and almonds until well coated.
Then carefully stir in berries.
Serve immediately.
You can also serve the spinach, strawberries, and dressing separate and let everyone serve their own amounts of each.
Notes
If you are gluten free be sure to read labels to make sure that your ingredients are gluten free.