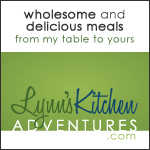 My family has gone through some major changes in our diet over the last year, but my goal for this site has always been to keep it the same. I love what I do here and I don't want it to change.
That is why earlier this year I started Lynn's Recipe Adventures. It is an extension of my main site and is a place where I can talk all about the challenges of gluten free and and other food allergies.
Lynn's Kitchen Adventures, my main site, has had a Facebook page for quite a while. I love my Facebook page. It allows me to interact with my readers more. I get to ask questions, talk about what I am doing or cooking for the day, and I also post tips and ideas. It gives me a place to get to know my readers better.
One thing I do know is that many of my readers are not dealing with food allergies and issues. They are not really interested in my allergy information and I totally get that. I would not be interested either if I was not dealing with it.
So, I decided to set up a separate Facebook page for my allergy site. Now I can keep my main Facebook page just like it is, but I can also have a Facebook page to post all about food allergies and gluten free living.
You can also subscribe for email updates for either site.
And as always thank you for reading and commenting. You help make this site what it is!