One of the quickest and easiest meals you can serve your family is pasta with a simple sauce. I have several pasta sauces on my site already, but when I saw this recipe for ultimate quick and easy pasta sauce in an old cookbook that I have, I knew it would be perfect for a cooking through my collection recipe.
This recipe comes from The Complete Cooking Light Cookbook
, which is an older cookbook that I love. Well, okay this really is not that old of a cookbook unless the year 2000 is old, but it is a cookbook I have had for awhile, so it is old compared to many of my cookbooks.
I have several Cooking Light Cookbooks. I love them and have used them a lot over the years. They are full of pretty simple, yet healthy recipes.
This recipe for the ultimate quick and easy pasta sauce is just that, it is simple and healthy. It also contains everyday ingredients. And if you are used to the jars of store bought pasta sauce, I encourage you to try a homemade version. You many never go back to the jars of sauce again.
And sorry for the poor pictures. My family was waiting for dinner as I took these photos, and something about the light that day made it almost impossible to get a decent picture. Well, I could have played around with it more and dinner could have been late, but I went with the less than perfect photos and fed my family. Just keeping it real.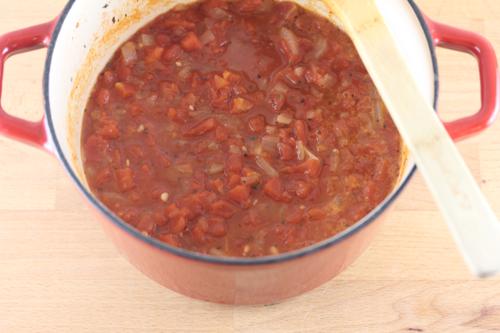 Ultimate Quick and Easy Pasta Sauce
1 teaspoon oil
1 cup chopped onion
4 cloves garlic, minced
1/2 cup red wine
1 tablespoon sugar
2 teaspoons dried basil
2 tablespoons tomato paste
1/2 teaspoon dried Italian Seasoning
2-14.5 ounce cans diced tomatoes
Heat oil in saucepan and add onion. Cook over medium low until onion is is tender, about 5 minutes.
Add garlic and cook about 30 seconds more.
Stir tomatoes, wine, sugar, basil, tomato paste, and italian seasoning.
Bring to a boil and then reduces heat to a medium low.
Cook uncovered about 15-20 minutes.
Serve over cooked pasta.