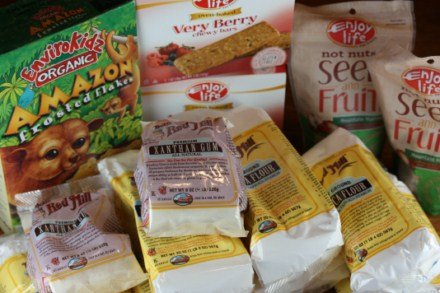 Several weeks ago I posted about Vitacost being my new favorite place to order health food and vitamin type products.
And I ordered again last week and I can easily say I still love them. The items pictured above are the order I received today.
Last week there were a few things that I knew I needed, so I checked both Vitacost and Amazon for prices and was surprised that Vitacost was cheaper for most of the items I needed to get, so I ordered them through Vitacost. My order came today and I was thrilled with what I got.
As most of you know we deal with some food issues in our house, so I ordered some gluten free flours and baking items, along with a few allergy friendly snack items for lunches and snacks on the go.
I ordered allergy friendly items, because that is what we needed, but Vitacost has all kinds of things from food, health foods, vitamins, skin care products, and more. They really have a large selection.
Right now they are offering free shipping on $20+ orders of Vitacost brand products and they have a great price on Vitacost brand coconut oil, especially if you recently signed up and have a $10 off coupon to use. And if you have not signed up, just sign up and they will email you a $10 coupon for signing up.
The Vitacost 54 ounce coconut oil is $20.99, and since it is Vitacost brand, shipping should be free. If you have a $10 coupon for signing up it should bring the final cost down to $10.99, plus tax. That is a great deal. (Offer good now through March 19, 2012 at 9 am EST)
And if you don't use coconut oil, they have a lot of other great products.
Do you love Vitacost as much as I do?