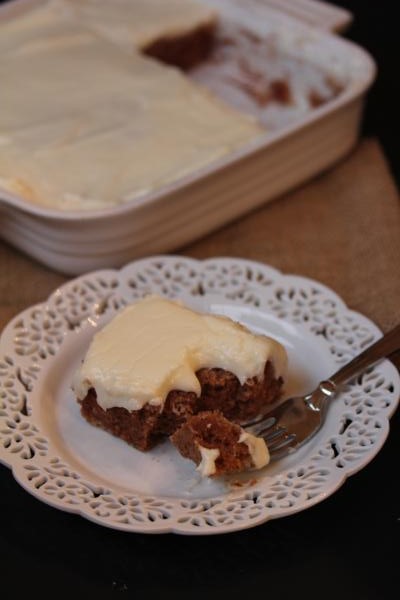 A few weeks ago when I shared a recipe for my Cooking Through My Collection series for Wacky Cake, Betsy left a comment about a Wacky Spice Cake that she makes. She mentioned the basics of what she did and I knew I needed to try it.
I had never heard of a Wacky Spice Cake or really any other types of Wacky Cakes, but a quick Google search proved how clueless I was on Wacky Cakes. There are many versions of Wacky Cakes including spice and lemon.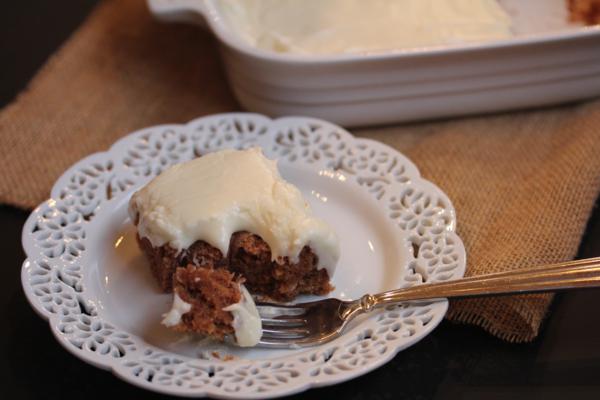 I decided to just tweak the basic recipe that I shared a few weeks ago using the same method Betsy suggested and it worked great.
I just did a basic spice cake, but Betsy said she also likes to add in raisins, carrots, or zucchini. I plan to try those variations too soon. I think a Wacky Zucchini Cake would be a great way to use up zucchini from the garden this summer.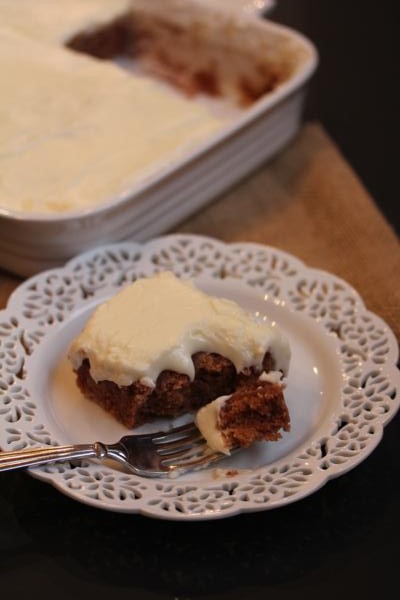 When I make a regular Wacky Cake I usually leave off the frosting and just dust it with powdered sugar. For the Wacky Spice Cake I decided it needed some cream cheese frosting. Maybe it did not need it, but cream cheese frosting and spice cake just go together. And it did. The frosting was delicious on this cake.
Now you could easily leave it off or just dust it with powdered sugar. It would still be delicious, but if you want to take it to the next level add a little frosting to it.
And thank you Betsy for telling me about Wacky Spice Cake!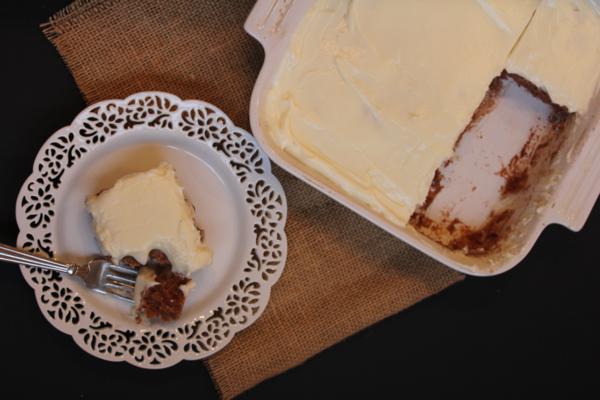 Wacky Spice Cake

A simple old fashioned dessert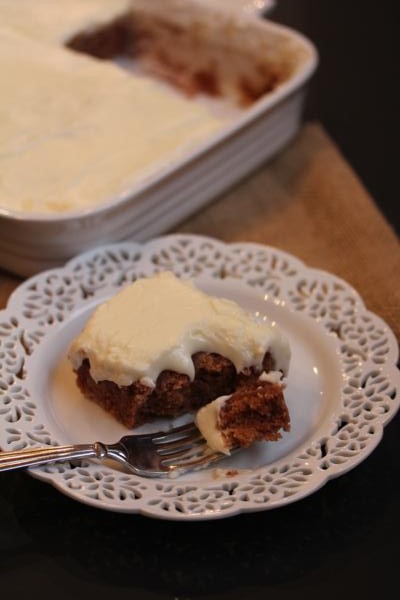 Preparation Time: 10 Min
Total time: 40 Min
6-8 servings
Ingredients:
1 3/4 cups all purpose flour or gluten free flour blend

3/4 cup sugar

2 teaspoons cinnamon

1/4 teaspoon ground ginger

1/8 teaspoon cloves

1/2 teaspoon salt

3/4 teaspoon baking soda

5 tablespoons oil

1 tablespoon white vinegar

1 teaspoon vanilla extract

1 cup water

powdered sugar
Instructions:

1. Preheat oven to 350 degrees.
2. Grease an 8 inch square pan.
3. Place flour, sugar, cinnamon, cloves, salt, baking soda, and salt in greased pan. Whisk together.
4. In in flour mixture make one large crater and two small ones.
5. Add oil to large crater. Add vinegar to one small crater and vanilla to the other one.
6. Pour water over entire mixture.
7. With a wooden spoon mix all together until mixture is well combined and no streaks remain.
8. Bake for 30 minutes.
9. Let cake cool and sprinkle with powdered sugar or spread with frosting.