Ever wonder if you can cook with essential oils? Today I am answering that question because they have become a staple in my kitchen. I am sharing about using oils in cooking, plus I am sharing twenty ways to use lemon essential oil in the kitchen.
Essential oils are gaining in popularity. More and more people are using them for health and wellness. My favorite way to use them though might just be in the kitchen. Yes, in the kitchen.
Did you know that you can use essential oils in cooking? Yes, you can use them in cooking. They add so much flavor to food and recipes.
I love using them in place of dry powdered spices and extracts. Essential oils give the food a fresher taste, and I love that I always have them on hand. I might not always have fresh lemons in the fridge, but I always have a bottle of Lemon Vitality Oil.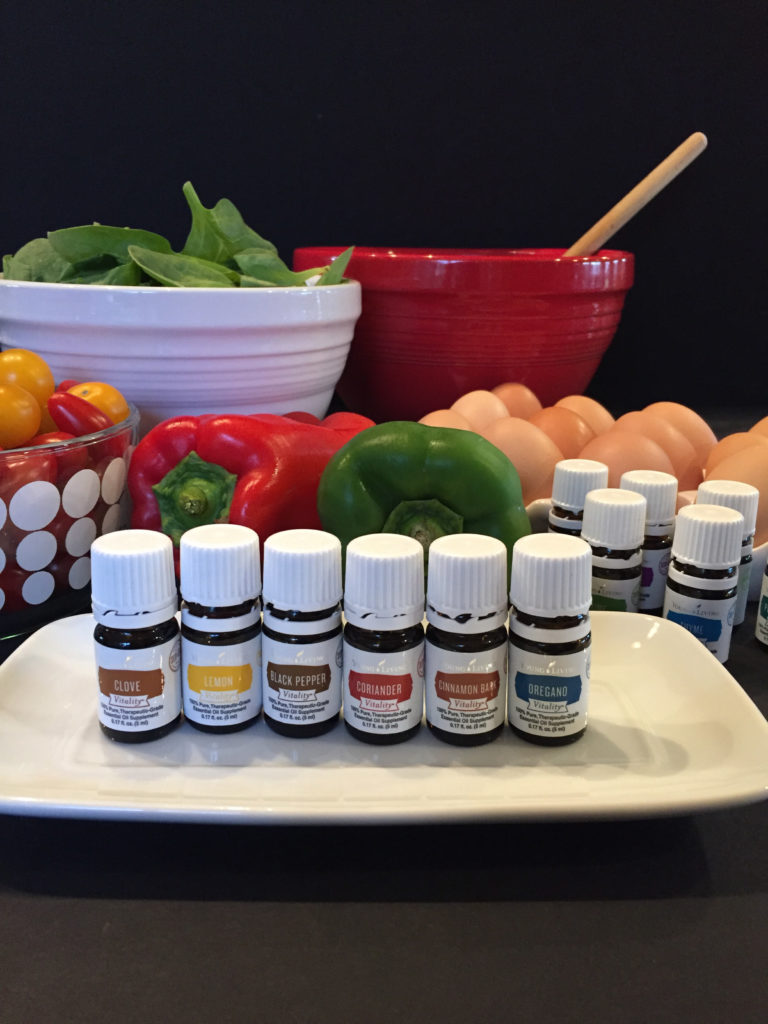 I started using Young Living Essential Oils in 2013 and quickly realized that their use went way beyond just diffusing and wearing them. They can be used in all kinds of ways like cooking and cleaning. If I had to write down all the ways I use essential oils, cooking and cleaning would be the top of the list of favorite uses.
Because I use them so much in my everyday cooking, I thought I would do a few posts on how I use them in cooking and everyday kitchen life.
I am starting by sharing Lemon Vitality Oil because it is one of my favorites.
First though let me explain a little bit about essential oils. They are not all equal. They are not all processed the same. The seed to seal guarantee is one of the things I love about Young Living's oils.
When it comes to cooking, a food grade or therapeutic oil is a must. I use only Young Living Lemon Vitality Oil because it's the only lemon essential oil labeled safe for consumption. Young Living's Vitality Oils are a line of essential oils made for things like cooking. The Vitality Oils are the only oils I cook with.
Now that we have that out of the way, let's talk about how I use lemon oil in my kitchen!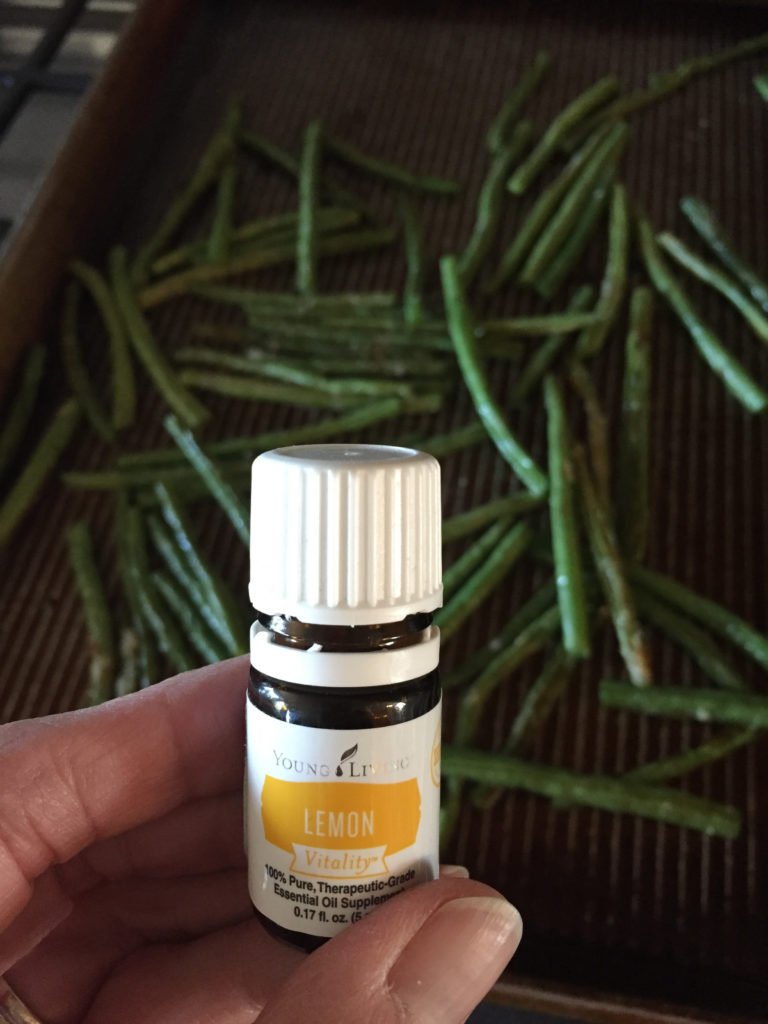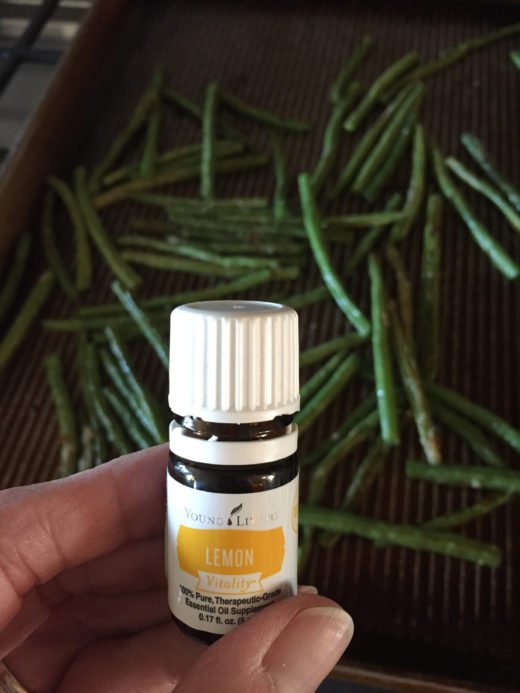 One or two drops added to a glass of water.
One or two drops in a cup of warm tea.
One or two drops added to iced tea.
A few drops added to homemade salad dressing or any salad dressing for extra lemon taste.
Add a couple of drops to your favorite lemon bar or lemon dessert recipe.
Use in herb or seasoned butter to spread on chicken or turkey.
One or two drops added to smoothies is delicious.
Use in meat sauces or marinades.
Add to plain or vanilla yogurt for a great breakfast, lunch, or snack.
I love to add a drop or two at the very end of cooking fish like when I cook my Bacon Salmon.
Add a few drops to muffin batter like blueberry or poppy seed for delicious lemon blueberry or lemon poppy seed muffins.
Add a couple of drops to chicken or tuna salad.
Add a few drops to your cooking oil when you make roasted potatoes or roasted vegetables.
Add a couple of drops to your favorite blueberry pancake recipe for lemon blueberry pancakes.
Use a couple of drops for extra lemon flavor in recipes like my no bake cheesecake.
Use for extra lemon flavor or in place of lemon zest in just about any lemon recipe.
Use in drinks to aid in digestion and keep the digestion process moving smoothly.
Use a few drops to remove sticky residue from items. It is like a natural version of the famous bottle of residue remover.
Diffuse for the freshly cleaned smell all day long.
Clean your microwave by placing a bowl of water with a few drops of lemon oil in it and microwave for 3-4 minutes. The steam will make wiping down your microwave down with a wet rag easy and the lemon will give it a fresh clean smell.
If you have never tried cooking with Lemon Vitality Oil give it a try! I think you will love using it in the kitchen.
If you are interested in giving essential oils a try, I have a great deal for you today. Through the end of the month, that is just a few more days, I am giving away a $20 Amazon gift card to anyone that signs up for a Young Living Premium Starter Kit or a Thieves Premium Starter kit.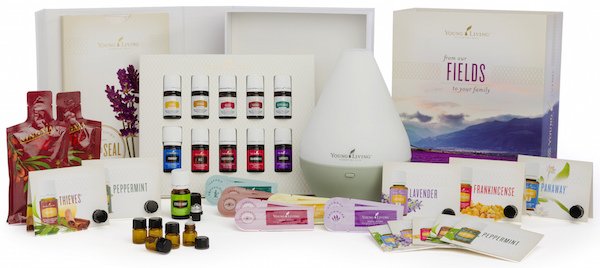 The premium starter kit is a great deal because it comes with some of my favorite Vitality Oils. But you all know I love my Thieves, especially for keeping my shower clean, so I love the Thieves starter kit too.
Not ready to order a whole kit? Or do you just want to try a bottle of Lemon Vitality Oil? You still can. The starter kits are the best way to save money when buying essential oils, which is why I recommend them, but you can also buy retail. The price is higher, but you can purchase them that way. Just choose the retail customer option here.
And feel free to email me at [email protected] or leave a comment with any questions. I would love to help answer any questions that you have or help you get started using Young Living Essential Oils.
For more details you can read all about my love of Young Living here.
Note: I am a distributor for Young Living, but I only share products and things I love. The reality is that I have used Young Living since 2013, but I have rarely shared about it. But the more I use and love their products the more I realize that I want other people to love them too. I will also add that I am not a doctor or a health professional. Results may vary and please do your research and use products that you feel are safe for your family.