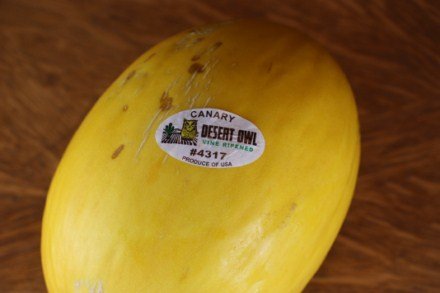 You all don't know how excited I was that last week's What Is It Wednesday was hard to guess. I know that might sound odd but I was starting to think that my items were way to easy.
Last week though we had a more challenging item and many of you did not know what it was. It was fun to have an item that many of you were not familiar with. I loved reading the comments and seeing all the different thoughts. And I love the fact that this item is as new to many of you as it was to my family.
Last week's What Is It Wednesday's item was a canary melon.
This melon was good. Several in my family really enjoyed. I thought it was good, but not something I would probably buy again. It reminded me a lot of a honeydew melon and honeydew melon is not one of my favorite melons.
However, some in my family disagree with me and they love honeydew melon and enjoyed this melon a lot.
In my area I paid quite a bit for this melon, but since some in my family did enjoy it, I would probably buy it again if I found a good price for it.
If you have had Canary melon what did you think of it? Did you think it was like a honeydew melon?