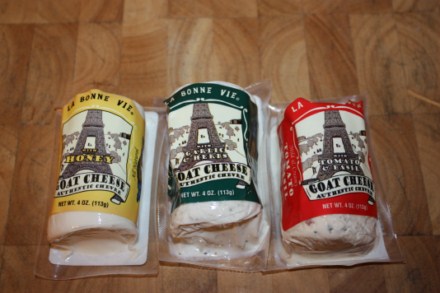 There is not much to guess on this week's What Is It Wednesday.
Part of the reason I started What Is It Wednesday was to share with you some of the new foods that my family is trying. So, today is just a sharing post.
A few weeks ago we tried several varieties of goat cheese, so instead of asking what the food is, I decided to just share with you our thoughts on goat cheese.
Let me start by saying I really wanted to like goat cheese. Really I did, I tried hard to like it, but I just couldn't.
I think I have had goat cheese before, but it would have been when I was a kid, and I do not remember much about it. My husband has probably had it before, but it has been years for him also.
I love cheese in general. It is one of my favorite foods. I like all different kinds of cheese, but I did not like this goat cheese. I did not like the texture and I did not like the taste. In fact my husband was the only one in the family that like this and he ended up eating the majority of it himself.
I know cheese can really vary in taste. An inexpensive store brand of cheese will taste different than a cheese like Tillamook brand.
I am hoping it was just the brand or type that we tried, because I really want to like it.
So, what are your thoughts? Do I just need to try a different brand or type of goat cheese? Or does all goat cheese taste about the same?