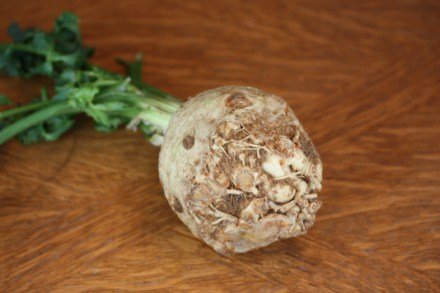 One of my food goals for 2011 was to encourage my family to try new foods. My husband is very adventurous when it comes to food and I wanted to encourage my kids to try some new and some what unusual foods.
I decided a great way to encourage us along the way would be for me to share my journey on this site and I started What Is It Wednesday.
Over the last year we covered twenty-four items for my What Is It Wednesday series. I shared our adventures in trying the celery root pictured above and also pepino melon, green fig, red rice, and many others.
I introduced twenty-four new foods to my family in 2011. And as I look back over the year, and all the new things we tried, I am amazed that we were able to experiment so much.
My family enjoyed trying new things so much that we hope to continue this in 2012. I am not sure how many new things we will give a try, but I hope we can come close to accomplishing what we did last year.
I have really enjoyed sharing our journey of trying new foods with you every Wednesday, but I am wondering if you all have enjoyed it as much as I have.
In other words, I am wondering if this is a weekly feature that you all would like me to continue? Should I keep sharing What Is It Wednesday in 2012? Do you all find it interesting enough for me to continue doing weekly or should I give it up or maybe just do them occasionally instead of like I have been doing?
I would love to hear your thoughts?