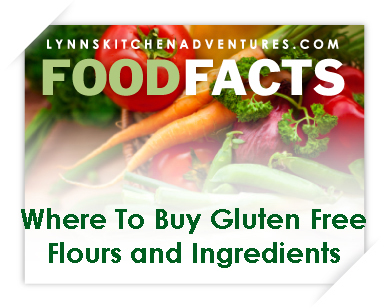 So far in my Gluten Free Food Facts series we have covered quinoa and also the various varieties of rice that are common in America. I was going to share about another gluten free ingredient today, but instead I decided to deal with a question that I have been asked several times over the last few weeks.
And that question is, where do you buy your gluten free flours and ingredients?
That is a great question. I well remember how overwhelmed I was after I first went gluten free and was trying to find all these new ingredients that I needed.
Things like rice and even quinoa can be found at most grocery stores, but ingredients like rice flour, potato starch, and xanthan gum are usually much harder to find.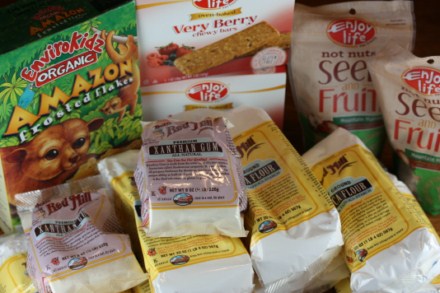 The first place I look is my local grocery stores. They often have a small gluten free section that contains gluten free pastas, a few basic gluten free ingredients, sometimes a gluten free flour blend, and often gluten free cookies and crackers.
There is no guarantee that they will have very much selection, but I have found quite a few things at my local store when I needed them. Be sure to check prices though. Sometimes the local grocery store do not have the best price. Gluten free flours and ingredients can be very expensive and comparing prices is important.
Also, be sure to check in several places at the grocery store. Most have a small gluten free section, but I have also found gluten free items in other spots as well.
My local Wal-mart has a gluten free section that includes pasta and a few basic things, but I recently noticed a whole section of gluten free pasta also on the regular pasta aisle. The same thing goes for cereal. It is often in both the gluten free area and on the regular cereal aisle. So take time to look around.
Whole Foods, Trader Joes, and other health food type stores are a great place to look.
Whole Foods has a large variety of gluten free ingredients, pastas, flours, snacks, frozen foods, and more. They are not always the best price, but they have a good selection. I do not have a Trader Joes near me, but I am familiar with them and they usually have quite a few gluten free products also.
Small local health food stores also often carry gluten free items and are usually quite helpful in ordering things that they may not usually carry.
My family lives in Oregon and when I was visiting them last summer, I found quite a few gluten free things at Fred Meyers. If you live on the west coast that would be a good place to look. If you live anywhere near Portland, OR, I highly recommend you visit Bob's Red Mill. They have a store that contains all their products and you can buy in large quantities. I love their store and products.
What if you can't find them at your local store or do not have a health food store near you?
Vitacost and Amazon
are my two favorite online sources.
I can find a few things locally, but I have found the prices at Vitacost and Amazon
to be much better, mainly because I can buy in bulk. Amazon usually sells gluten free flours by the case and it is much cheaper to buy them that way. The subscribe and save option though Amazon
can also save you money on products you buy often.
Now, I do not suggest doing this on a new to you item or brand, but once you known what you like, and what you use, ordering online is a great option.
I recently needed some Potato Starch
and could not find any at the few stores I checked. I came home and went right to Amazon and ordered a case of it, and since we have Amazon Prime, I had it in two days and it was a good price.
Vitacost also has some great prices on gluten free items and you do not have to buy in large quantities. You can buy one bag or package without having to buy a whole case. This is great if you only need a small amount or want to try something new.
I have been ordering from Vitacost for close to a year now and love them. I place an order every couple months and have had no problems at all.
And if you have never ordered from Vitacost they offer a $10 off coupon for all new customers. When you sign up they will email you a coupon code for $10 off your purchase. The $10 off coupon is a great way to try them out. And Vitacost has free shipping on all orders over $49.
Are there any other options?
You can also order directly from companies like Bob's Red Mill and King Arthur Flour. They have a great selection, since you are ordering straight from the company, but I have found that shipping is often so high that it is not worth it. It never hurts to check and compare prices though.
Food Co-ops can also be a good option. In my area we have an Azure Standard drop and it has been a good source for me to get many items. I have been able to find many Bob's Red Mill products and gluten free pasta and bread from Azure Standard. The downside is that they do not always have items in stock. If I know I need rice flour, they may or may not have it in stock. And since you order one week or longer, in advance of when you pick up your order, you really have to plan ahead.
The other problem I have had is with some things being repackaged and sold in bulk style and this gives me a little concern for cross contamination When it comes to my gluten free flours, I try to stick to brands I know, and not the repackaged bulk type items. I am guessing this would be an issue for any co-op, so just be aware when ordering from them. Overall though I love Azure Standard and have found them a good source for gluten free items.
Those are a few of the places that I have found helpful for finding gluten free flours and ingredients, now I would love to hear about your favorite places. Do you have a favorite place that I did not cover?