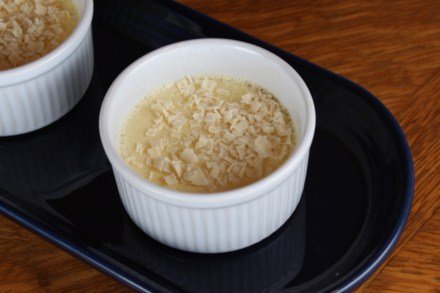 A few weeks ago I posted my recipe for Chocolate Custard. It is so good, but I know that not everyone loves chocolate as much as I do. So, for those of you that prefer white chocolate over regular chocolate, this White Chocolate Custard is for you.
It is as good as the Chocolate Custard. It is just as rich and creamy, but it contains white chocolate instead of regular chocolate.
These chocolate custards go perfectly together and if I am serving them to the company, I like to make them both and give everyone a choice.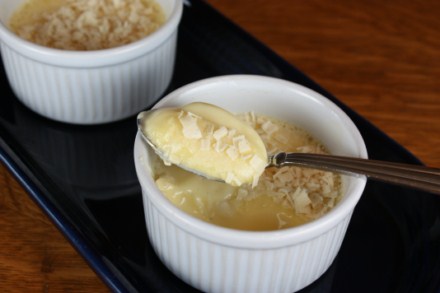 Yield: 4 servings
White Chocolate Custard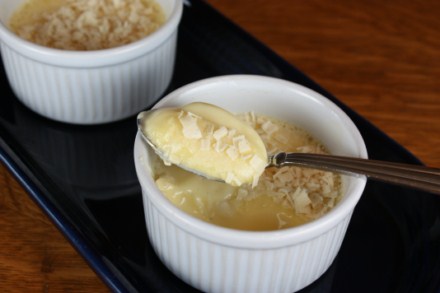 White chocolate custard is a delicious naturally gluten free dessert.
Ingredients
¾ cup cream
¾ cup milk
1 teaspoon vanilla
3 egg yolks
1/3 cup sugar
pinch of salt
½ cup white chocolate chips, melted ( I melt them in the microwave, at 50% power, stirring every 30 seconds)
Instructions
Preheat oven to 325 degrees.
Bring the cream and milk to a boil and remove from heat. Add in vanilla. Set aside.
In a bowl beat egg yolks, sugar, and salt. Beat in melted white chocolate. Gradually whisk in cream/milk mixture.
Divide mixture among 4- 6 ounce ramekins. You can use a different size ramekin, just adjust the cooking time for a large or smaller ramekin.
Place ramekins in a 9x13 pan that has been filled with ½ inch of hot water. (You are creating a water bath.)
Bake custards for 40-45 minutes or until slightly wobbly. Remove dishes from hot water and refrigerate until cooled or over night.