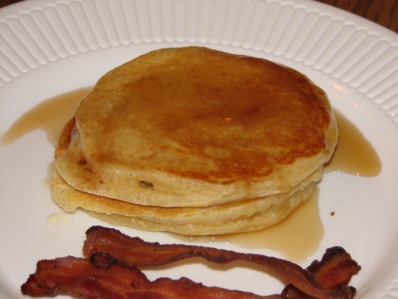 I have been making these pancakes for years. They are a favorite in our family and we eat them almost every Saturday.

Whole Wheat Buttermilk Pancakes
1 cup all purpose flour
1 cup whole wheat flour
1 teaspoon baking soda
2 teaspoons baking powder
1/2 teaspoon salt
3 tablespoons sugar
2 eggs, lightly beaten
3 cups buttermilk
4 tablespoons butter, melted
Whisk together flours, soda, baking powder, salt, and sugar. Add remaining ingredients. Whisk to combine. Batter will still be slightly lumpy. (I like to let sit about 5-10 and then whisk a few more times) Using a ladle pour onto hot griddle or pan. Enjoy!