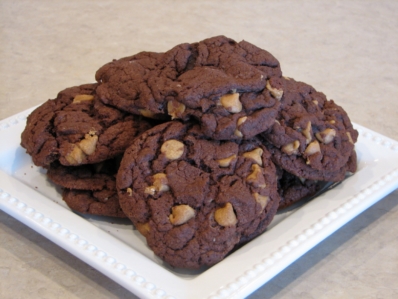 These cookies are so easy to make. I saw these on a t.v. show quite a few years ago. I usually try to keep a chocolate cake mix on hand for them. They are great if you need a quick dessert for company or to take somewhere. My 10 year old daughter loves to make them.

Cake Mix Cookies
1 chocolate cake mix ( I like Duncan Hines best for this recipe)
1/2 cup oil
2 eggs
1/2 package of peanut butter chips (or butterscotch or white choc.)
Mix cake mix, oil, and eggs together. It will be a stiff batter. Stir in chips. Bake at 350 degrees for 10 – 11 minutes.