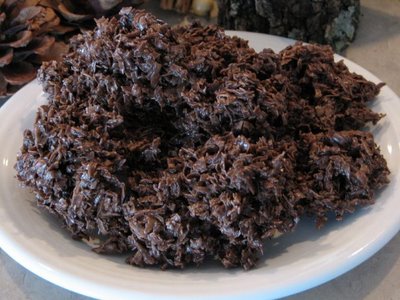 I first had these a few months ago when a friend of mine made them. She brought them to a church dinner.
As soon as I tasted these I knew they would make a good candy for our Christmas party.
I was thrilled to learn how easy they were. So, thanks Susan for the great recipe idea.

Coconut Chocolate Patties
1 1/2 cups sweetened shredded coconut
3 drops pure almond extract
3 3/4 ounces semisweet chocolate, melted
Preheat oven to 350 degrees. Place coconut on a baking sheet. Place in oven until golden and toasted, about 10 minutes, stirring occasionally to color evenly. Remove from oven; let cool completely.
In a medium bowl, combine toasted coconut, almond extract, and melted chocolate. Stir gently until combined. Press about 1 tablespoon coconut mixture onto a parchment-lined baking sheet. Repeat with remaining mixture. Place in the refrigerator until cookies are set, about 20 minutes. Keep in refrigerator until ready to serve.
Adapted from Martha Stewart