Triple Chocolate Brownie Cookies are part brownie part cookie and 100% delicious! They are a great cookie for the holidays or any day.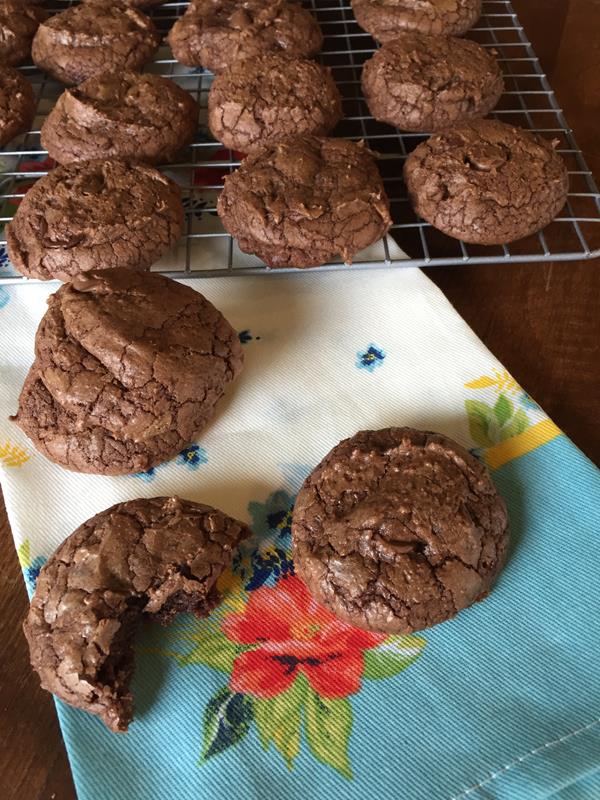 Years ago, in my early days of blogging, I convinced my sisters to share some of their favorite recipes with my readers. I loved having them share recipes.
I recently made one of the cookie recipes that my sister shared. I had I totally forgotten about this recipe and how good these cookies were. They are so good!
I took some new pictures of them and when I updated the post, I decided that I needed to reshare the recipe with you.
If you love brownies I think you will love this cookie. It is basically brownies in cookie form. I am also sharing how I made them gluten free.
My sister Evie is a great cook and she loves spending time in the kitchen. She does not have a blog, so I am glad that I convinced her to share this recipe with you!
Triple Chocolate Brownie Cookies are great for holiday baking!
Over the years, I've lost track of the number of cookie exchanges I've been to around the holidays. They are a great way to spend time together and get a variety of cookies.
However, I find myself baking the same kinds of cookies year after year. A few years ago I was determined to toss out the old standby cookie recipes and try something new.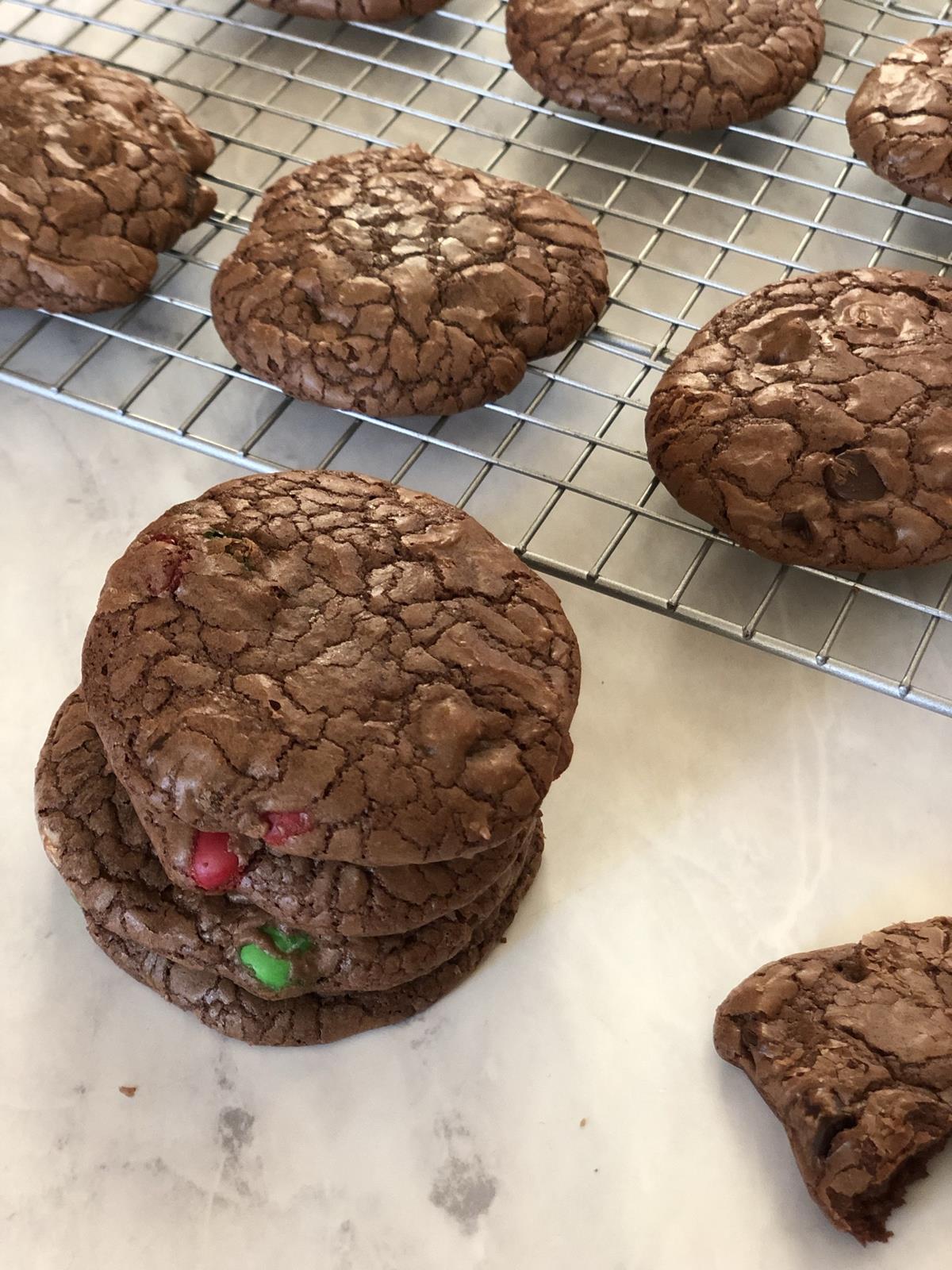 The result: finding the best chocolate cookie recipe I've ever made. These cookies may look like other chocolate cookies, but they are more chocolaty, fudgy, and tasty than others I've made.
I modified the original recipe slightly, but essentially it is a brownie recipe turned into cookies.
For a fun holiday treat stir holiday M&M's into the batter in place of the milk chocolate chips.
How could a brownie cookie be anything but delicious?
Can I make chocolate brownie cookies gluten free?
Yes, these chocolate brownie cookies work great gluten free. I use Bob's Red Mill 1 to 1 gluten free flour blend and they are so good you can't tell that they are gluten free.
Other blends may work, but I have only tested them with Bob's Red Mill brand.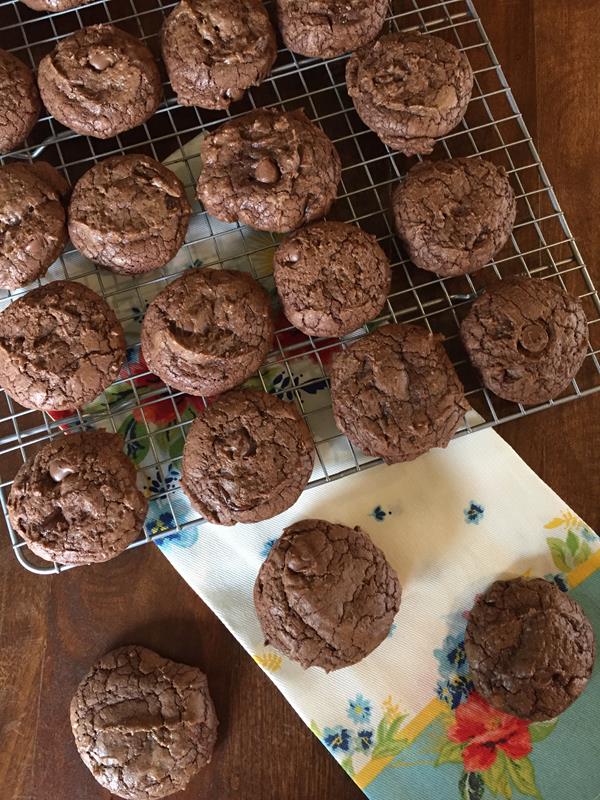 Yield: 48 cookies
Triple Chocolate Brownie Cookies
Triple Chocolate Brownie Cookies are part brownie and part cookie and 100% delicious!
Ingredients
½ c. butter
4 oz. unsweetened baking chocolate
1 ½ c. semisweet chocolate chips
4 eggs
1 ½ c. sugar
1 ½ tsp. vanilla
½ tsp. baking powder
½ tsp. salt
1 ½ c. flour ( I use Bob's Red Mill 1 to 1 Gluten Free Flour for a gluten free version)
1 ½ c. milk chocolate chips ( Semi sweet chocolate chips work too)
1 ½ c. walnuts, chopped (optional)
Instructions
In a saucepan, combine butter, unsweetened chocolate, and semisweet chocolate chips.
Cook over medium heat until melted and smooth. Set aside and cool until thickened, about 20 minutes.
In a mixing bowl, combine eggs and sugar. Mix well.
Add vanilla, baking powder, and salt. Mix until combined.
Gradually mix in flour.
Slowly add chocolate mixture. Mix well.
Stir in milk chocolate chips and walnuts if using.
Drop by heaping tablespoons onto a lined or greased cookie sheet. See note below.
Bake at 350 for 10 minutes. Do not over bake! The cookies may still look a little gooey in the center.
Cool for 2-3 minutes on baking sheets before removing to wire racks.
Cool completely and store in an airtight container.
Notes
I've found that using parchment paper lined baking sheets works well, but silicone or Silpat liners work the best. Unfortunately, the cookies do tend to stick if you don't line the baking sheets at all.
If you want very uniform cookies, use a cookie scoop. The cookies come out almost perfectly round and all the same size when a scoop is used. If you don't flatten the scooped dough, the cookies turn out a little extra gooey in the center!
Substitutions for milk chocolate chips: ¾ c. peanut butter chips and ¾ c. milk chocolate chipspeanut butter chips, butterscotch chips, white chocolate chips, or mini M& M's
More Cookie Recipes