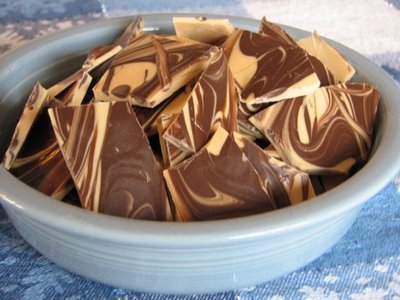 When I making holiday candy I like to have a few quick and easy recipes. But, I still want them to be really good. This recipe fits that category. It is so easy and yet so good. I have made this several times over the years and it is always a hit. This recipe is so easy even the non cook can do this one. This recipe works for me.
Tiger Bark
1 pound white chocolate, cut into pieces or use white chocolate chips
1/2 cup Peanut Butter
1/2 cup semisweet chocolate chips
4 teaspoons half-and-half cream (I don't use this I just melt the choc. by itself)
Directions: In a microwave-safe bowl, white chocolate and peanut butter on medium for 2-3 minutes or until melted; mix well. Pour onto a foil-lined baking sheet coated with cooking spray( I use a silpat mat); spread into a thin layer. In another microwave-safe bowl, heat chips and cream on high for about 30 seconds or more or until chips are soft; stir until smooth. Pour and swirl over peanut butter layer. Freeze for 5 minutes or until set. Break into small pieces. Yield: about 1-1/2 pounds.