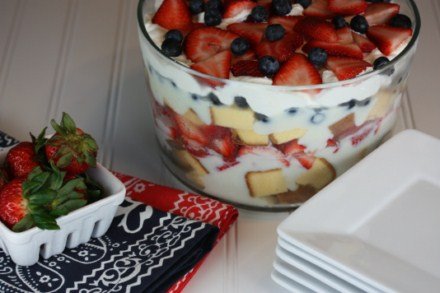 The 4th of July is a time to celebrate. Yes it is about food, family, and friends, but more than that it is a day to celebrate our country and the freedoms that we enjoy.
In honor of the 4th of July, we are celebrating all week long here with Red, White, and Blue week. All week long I will share food perfect for your 4th of July picnic or barbecue.
And really all the recipes will be perfect all summer because all of these recipes are delicious.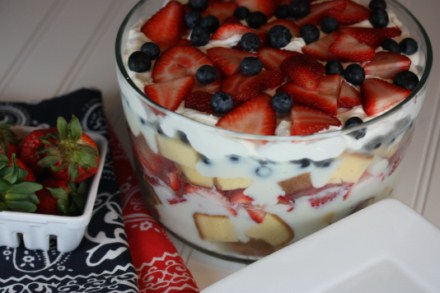 I hope you all enjoy Red, White, and Blue week!
To start things off I have a very easy, but very impressive White Chocolate Berry Trifle for you. I made this for my husband's staff meeting back in May and everyone loved it.
In fact, this is the dessert that inspired me to do a Red, White, and Blue week. When I saw the dessert I knew it would be perfect for the 4th of July and then I started thinking of all the fun foods I could make to celebrate the 4th of July.
So, stay tuned for more great red, white, and blue foods throughout the week.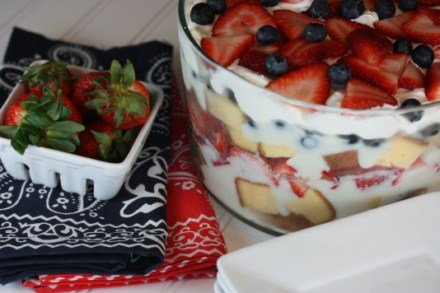 White Chocolate Berry Trifle
1 pound cake cut into 1 inch or so cubes – You can use homemade or store bought. (The first time I made this I used store bought pound cake and the second time I used my gluten free pound cake.)
white chocolate pudding- I used homemade, but I think you could easily use Jello white chocolate cheesecake pudding.
1- 8 ounce container Cool Whip
2 cups fresh blueberries
3-4 cups sliced fresh strawberries
In a large trifle or glass bowl layer half of the pound cake, then half of the pudding, and then the strawberries, leaving a few to sprinkle on the top. Carefully spread about half of the Cool Whip on top of the berries.
Then make another layer with the remaining pound cake, the rest of the pudding, and the blueberries, saving a few blueberries for the top. Top with remaining Cool Whip and decorate with the remaining berries.
Let sit for a few hours or overnight.
Serve and Enjoy!