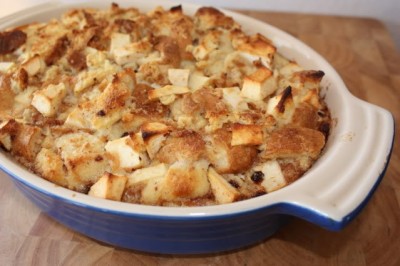 I had a few apples left from my trip to the orchard. They needed to be used up, but I wanted to try something new. I also had some bread, that wasn't the freshest, that needed to be used up. I looked for a recipe for apple bread pudding, but I could not find one I liked. So, I came up with my own version.
Bread pudding is one of those frugal old fashioned desserts. I like regular bread pudding, but I usually like to give it a unique twist. I like to make it a little different.
This recipe is your basic bread pudding, but I tweaked it by adding apples. This turned out really well. My kids loved it. I loved it because I used up some ingredients that I needed to. I also love the fact that I created a semi healthy (it does contain apples after all),dessert.

Apple Bread Pudding
6 cups of bread cut into chunks
2 cups diced apples, you want to use an apple that is good for baking
3 cups milk
4 eggs
½ cup sugar
1 teaspoon vanilla
1 teaspoon cinnamon
Mix together apples and bread. In separate large bowl whisk together milk, eggs, sugar, vanilla, and cinnamon, then add bread and apples. Mix together well. Pour into an 11×7 or about that pan. Place that an into a 9×13 pan and fill the outer pan (9×13 pan) with about 1 inch of water. Your size of pan does not matter so much, as long as the pan with the bread mixture can fit into a pan with water into it. You are creating a water bath, which is important in giving this bread pudding its texture. Bake at 350 for 55-60 minutes.