Asian Meatballs are a delicious way to change up your basic meatballs. Serve on their own or over rice or noodles.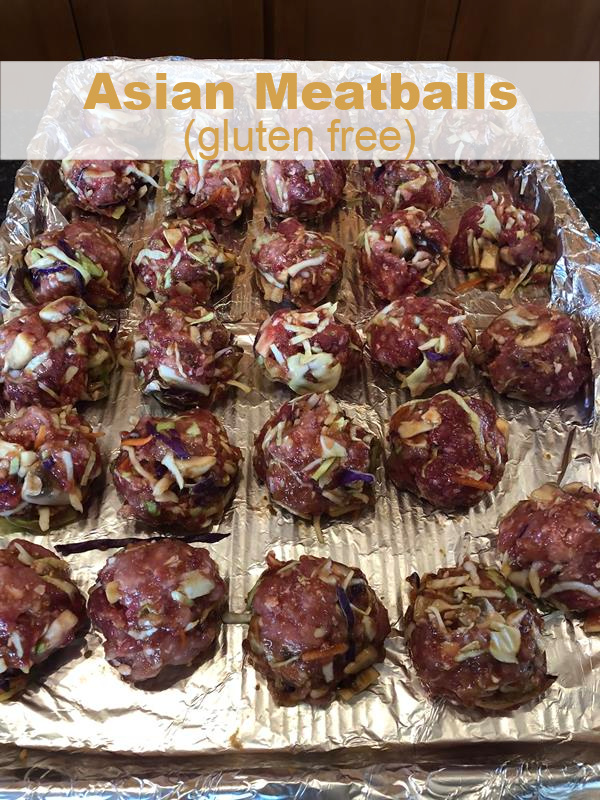 We love meatballs. One of the reasons that we love them is because they are easy to change up. You can eat them as is, with rice or noodles, as a sandwich filling, and more.
Meatballs also freeze well. They are one of my favorite freezer meals.
My daughter declared Asian Meatballs one of her new favorite meals and she told me I had to share the recipe with you.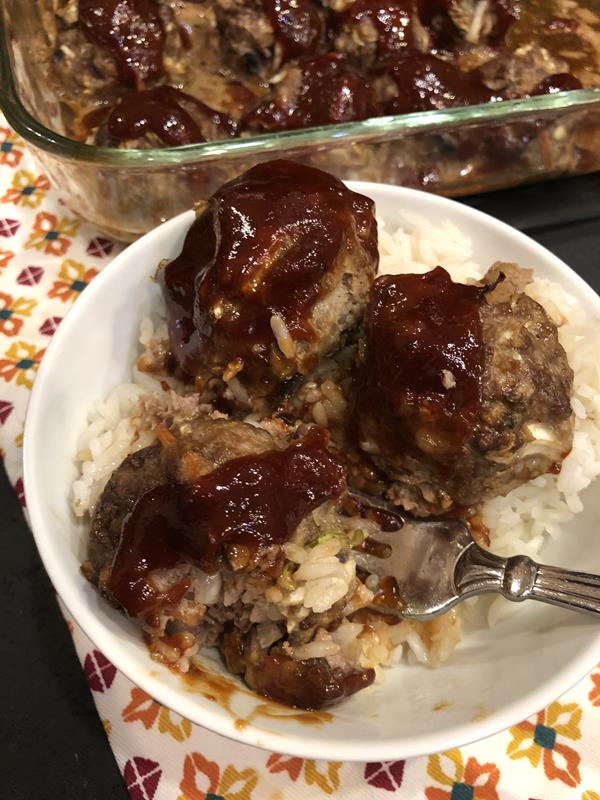 She told me that quite awhile ago and I never shared the recipe. Why did I wait so long to share it? The pictures are terrible. Or at least I think they are terrible.
They are not pretty, but the reality it that meatballs are not pretty. Meatballs are actually pretty ugly…
They are hard to photograph. I have tried multiple times to take photos of these and I am disappointed every time.
I also have had the issue lately that my family wants to eat. They don't have time for me take photos. When dinner is ready they want to eat.
I don't usually have time to make food and take photos in the middle of the day. What you see here is what we are eating.
It may not be picture perfect food with images great for social media, but it is real food. It is this is what we actually had for dinner pictures.
So please don't let pictures of ugly meatballs keep you from making these. These Asian Meatballs are so good!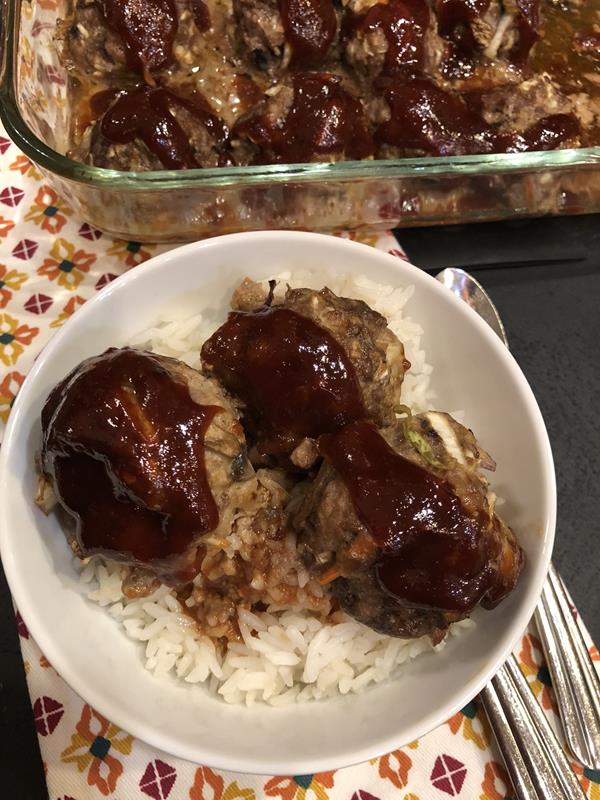 One of my kids that doesn't normally like Asian food really enjoyed these.
These are also a great way to sneak some vegetables into your dinner. If you shred up the vegetables small enough they might not even know they are there.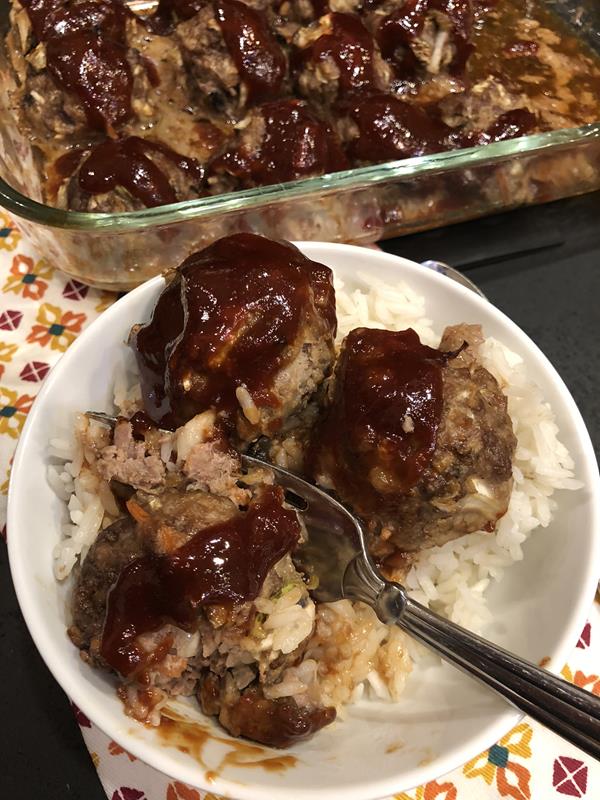 Can you freeze meatballs?
Yes, meatballs freeze great. You can freeze them before or after cooking. I usually prefer to freeze them after cooking. When you freeze the cooked meatballs all you have to do is heat them up and serve them. It makes them an easy dinner.
I cook them and then let them cool completely. Then I freeze them in freezer containers or zip top type bags.
Can I Use Other Meat Besides Ground Beef In Meatballs?
You can easily use other ground meat when making meatballs. My favorite way to make meatballs is to use at least two different types of ground meat. I like to use ground beef and another ground meat like pork, chicken, or venison.
Other Meatball Recipes
Asian Meatballs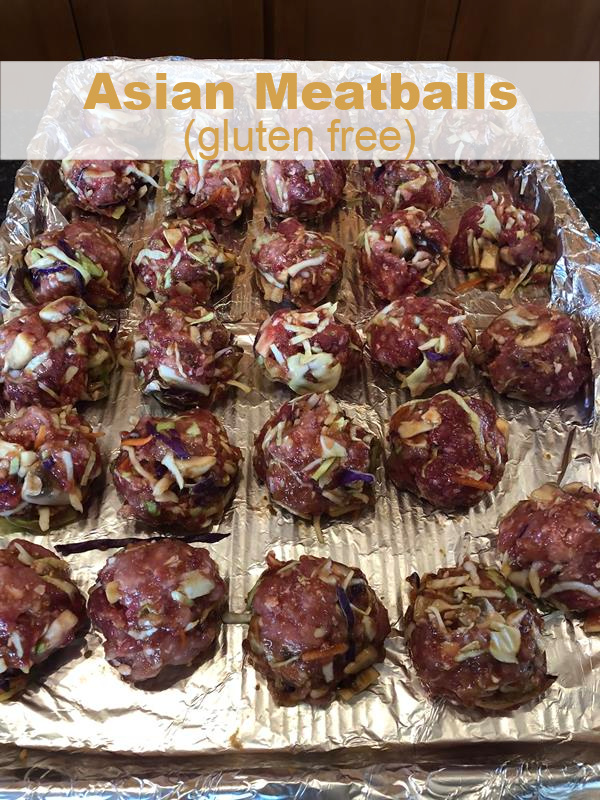 Asian meatballs are a delicious way to change up meatballs. They can be served as is or over rice or noodles.
Ingredients
Meatballs
1 pound lean ground beef
1 pound ground pork, chicken, turkey, or venison
2-3 cups shredded cabbage or coleslaw mix
8 ounces mushrooms, chopped
1/2 teaspoon salt
2 eggs
2 cloves minced garlic
1/4 cup gluten free soy sauce for gluten free version and regular soy sauce for regular version
1 tablespoon honey
1 teaspoon ground ginger
Sauce
1/2 cup ketchup
2 tablespoons brown sugar
1 tablespoon rice vinegar
2 tablespoons gluten free soy sauce for gf version or regular soy sauce for regular version
1/4 teaspoon garlic powder
1/4 teaspoon ginger powder
Instructions
Preheat oven to 400 degrees.
For easy clean up line a baking sheet or two 9x13 pans with foil. Or use unlined pans. Set aside.
In a large bowl combine meat, cabbage, mushrooms, salt, eggs, garlic, soy sauce, honey, and ground ginger.
Using your hands or a large spoon mix to combine well. Your hands are the easiest way to completely mix this, but you can also use a large spoon, etc.
Roll mixture into 1 1/2 to 2 inch balls depending on the size you want them. I like to use a cookie scoop so that the meatballs are even in size. Because of the cabbage and mushrooms these don't form into a perfect ball, but you want to form them the best you can.
Bake for 35-45 minutes. Smaller meatballs will take closer to 35 minutes. and larger meatballs will take closer to 45 minutes.
While meatballs are cooking mix sauce ingredients in a small pan. Cook over medium low heat for 3-4 minutes or until sauce is heated and sugar is dissolved.
You can serve the sauce with the cooked meatballs either on the side or with the meatballs over rice or pasta. Or you can pour part or all of the sauce over meatballs during the last 10 minutes of cooking. This will give the sauce a slightly different texture as it will slightly caramelize while cooking in the oven.