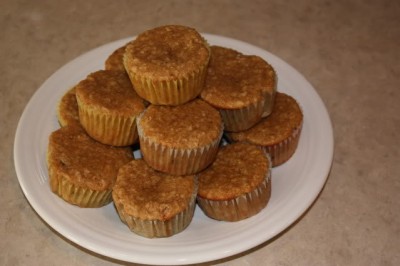 We love muffins. They are great to eat for breakfast with yogurt, but they also make a great snack or dessert for the kids. Muffins make a great on the go food. You can easily take them in a lunch to work or school.
I have quite a few muffin recipes that we enjoy, but I am trying to find a few healthier ones.
I recently came across a recipe for Overnight Oatmeal Muffins in a cookbook that I checked out of the library. It caught my attention because it was healthy, or at least healthier, than most of my muffin recipes. It contains both oatmeal and whole wheat flour which make it more of a hearty breakfast muffin.
I like the fact that the oatmeal soaks overnight in this recipe. It helps soften the oatmeal and give the muffins a better texture. This recipe also calls for buttermilk instead of regular milk, which I think gives it a nice flavor and also helps the texture.
This recipe contains raisins, but I think you could easily put other things in it. I think craisins would be good or if you want it a little less healthy and more dessert like try chocolate chips. I am sure you could try quite a few different things in these to change up the flavor.
Now, I will warn you that these are not your bakery style light and fluffy muffins. These are a heartier and healthy muffin, but they are very good.

Overnight Oatmeal Raisin Muffins
1 cup regular oats
2 cups buttermilk
Combine oats and buttermilk in a bowl, cover and refrigerate overnight.
In the morning add:
1  2/3  cups whole wheat flour
1 cup brown sugar
¼ cup oil
1 teaspoon baking powder
1 teaspoon baking soda
1 teaspoon salt
2 eggs
Mix together and then add:
1 cup raisins
1 cup chopped pecans (optional, I left these out)
Bake in greased muffin tins or line with muffin liners. Bake at 350 for 15-17 minutes. This made 22 muffins for me.

For more frugal recipes see
Frugal Friday
and
Grocery Cart Challenge
.