Overnight Oatmeal Muffins are an easy breakfast for any day of the week. They can be made ahead for breakfast during the week or frozen for easy breakfasts, lunches, or snacks.
We love muffins. They are great to eat for breakfast with yogurt, but they also make a great snack or dessert for the kids.
Muffins also make a great on the go food. You can easily eat them for a breakfast on the go or as a lunchbox treat.
I have quite a few muffin recipes that we enjoy, but I am always experimenting with new muffin recipes because we love them so much.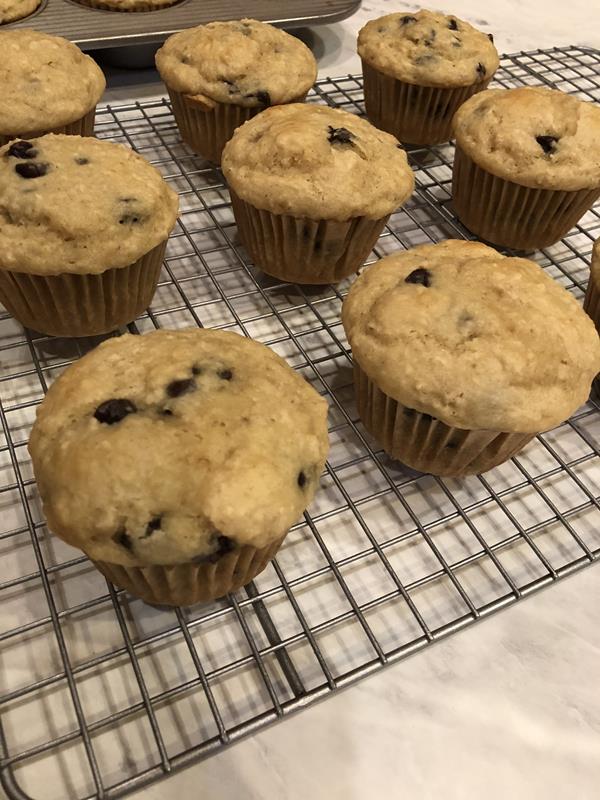 Years ago I saw a recipe for Overnight Oatmeal Muffins in a cookbook that I checked out of the library. It caught my attention because it was healthy, or at least healthier, than most of my muffin recipes. It contained both oatmeal and whole wheat flour which made for a healthier heartier muffin.
Over the years I have changed the recipe up to fit our needs, but it is still a favorite. I have made this recipe so many different ways and I am sharing a few of the versions today.
This recipe can be made with oats and whole wheat flour. It can be made with oats and all purpose flour. It also turns out well with gluten free oats and a gluten free flour blend. All three versions are delicious.
You can also change up the add ins for this recipe. My kids love the oatmeal chocolate chip version. I love the oatmeal raisin version. But you can add all kinds of different things like blueberries to this as well.
No matter how you make these muffins they are delicious.
I like the fact that the oatmeal soaks overnight in this recipe. That is why it is called overnight oatmeal muffins. Soaking the oats overnight helps soften the oatmeal and give the muffins a better texture.
This recipe also calls for buttermilk instead of regular milk, which I think also helps the texture. I have made these with both old fashioned oats and quick oats and both work. The old fashioned oats give you more of an oatmeal texture.
Need more muffin recipes?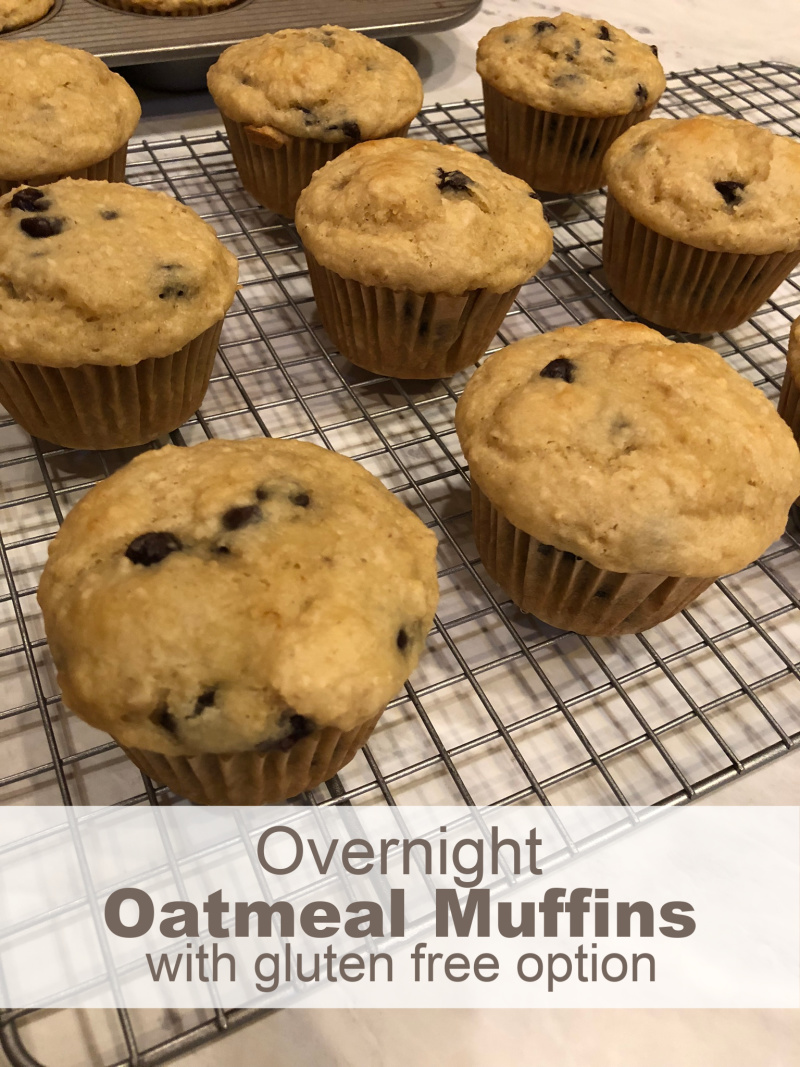 Yield: 18 muffins
Overnight Oatmeal Muffins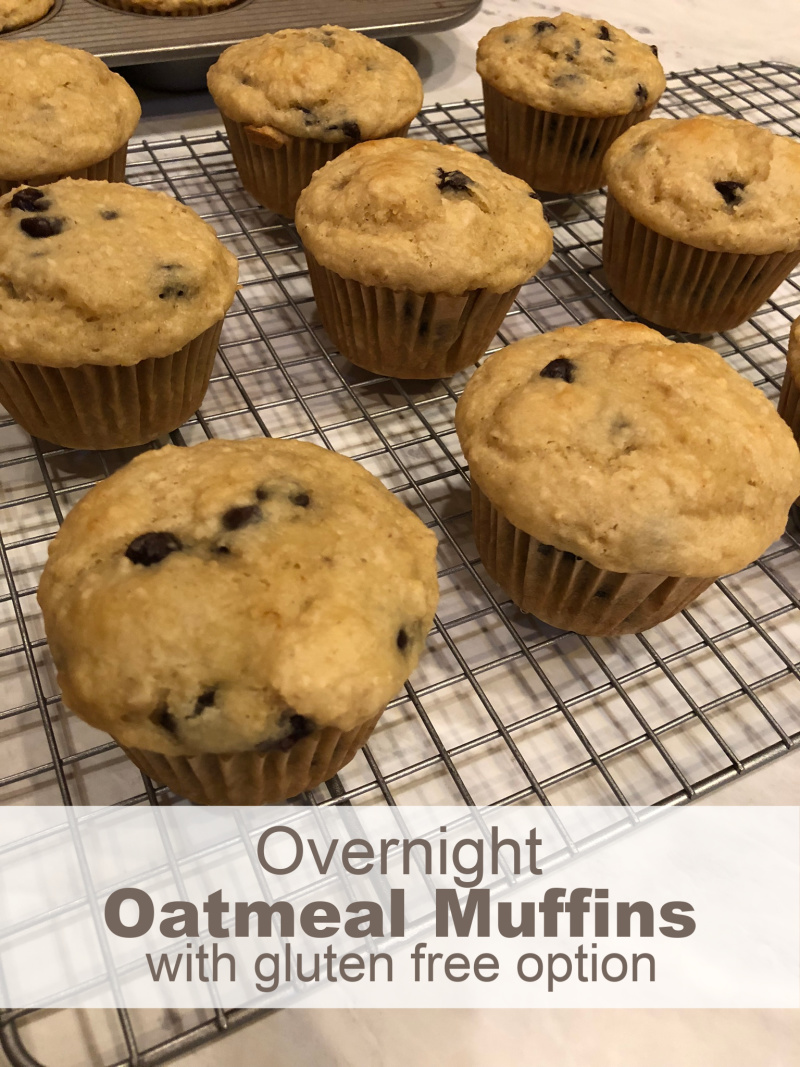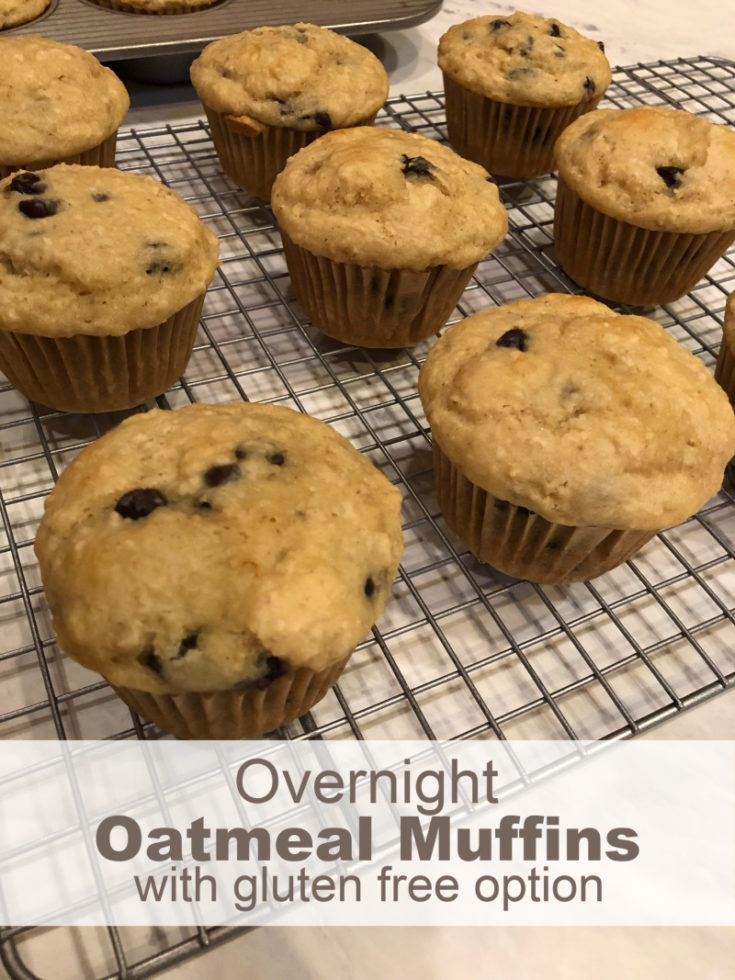 Overnight Oatmeal Muffins are an easy make ahead muffin.
Ingredients
1 cup old fashioned oats or quick oats ( use gluten free oats for gluten free version)
2 cups buttermilk
1 2/3 cups whole wheat flour, all purpose flour, or gluten free flour blend
1 cup brown sugar
¼ cup oil
1 teaspoon baking powder
1 teaspoon baking soda
1 teaspoon salt
2 eggs
Instructions
The night before:
Combine oats and buttermilk in a bowl, cover and refrigerate overnight.
In the morning:
Add flour, sugar, oil, baking powder, baking soda, salt, and eggs to oat mixture. Stir until well combined.
Stir in chocolate chips, raisins, or other add ins.
Scoop into greased or lined muffin cups filling 3/4 full.
Bake at 350 for 16-17 minutes.
Let cool in pan 5 minutes. Remove to wire rack to finish cooling.
Notes
This recipe works well with whole wheat flour, all purpose flour, or a gluten free baking blend. I used Bob's Red Mill 1 to 1 Gluten Free Blend and gluten free oats to make them gluten free.
You can make these as is for plain oatmeal muffin or stir in chocolate chips, raisins, blueberries, etc.
Originally published August 2009. Updated February 2019.