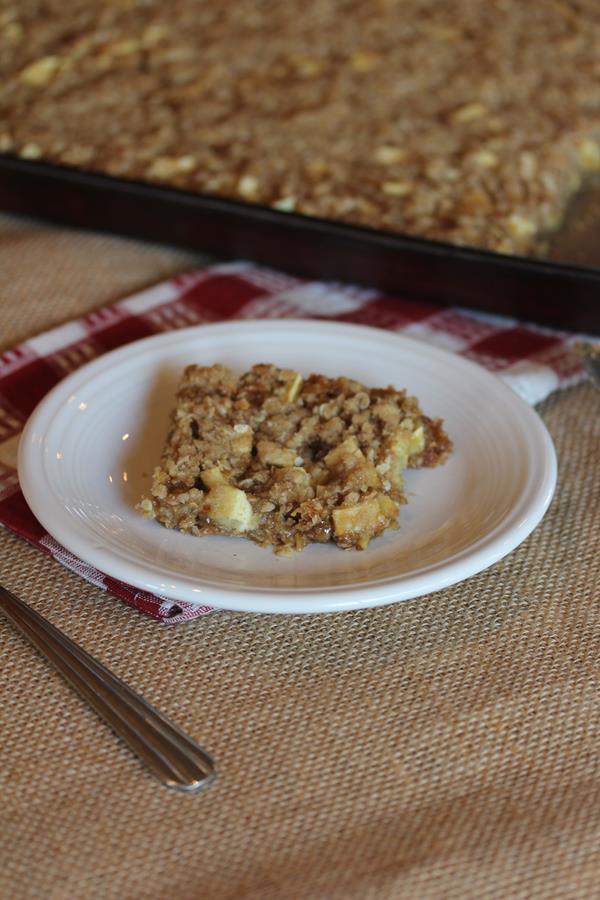 Caramel Apple Bars were one of the first recipes I shared on this site. I shared them in September of 2008, which was my first year of blogging.

I decided that it was time for a redo of these bars. Not a redo of the recipe, mainly a redo of the post. They are delicious and the old picture for this post did not do them justice. Blogging has changed a bit since 2008, so I have updated the post, added new pictures, and am sharing it again today. If you love apples and caramel,this is a must try. And it is perfect for fall!
I love fall. I think it is my favorite season. One of the things I love about fall is going to the apple orchard to get apples for all kinds of baking. Apple bread pudding, fried apples, apple pizza, apple crisp, and more.
Today I am sharing one of my favorite fall dessert recipes. It is for caramel apple bars.
I have been making these caramel apple bars for years. I think the original recipe came from Taste Of Home, but I have tweaked it a lot over the years to make it more how we like it. Which is with a lot more apples. You can never have too many apples.
I am trying to convince myself these are healthy, they do have apples and oatmeal in them, right?
Caramel Apple Bars
2 cups all-purpose flour
2 cups quick cooking oats
1 1/2 cups packed brown sugar
1 teaspoon baking soda
1 1/4 cups butter, melted
3 to 3 1/2 cups apples – peeled, cored and chopped ( I like Granny Smith or Jonathan)
1 12 ounce jar caramel ice cream topping
Preheat oven to 350 degrees. Grease a 15×10 inch jellyroll pan.

In a large bowl, combine the flour, quick cooking oats, brown sugar, and baking soda. Stir in the melted butter. Mix until crumbly.

Press about 2/3 of this mixture into the prepared baking pan.

Bake for 8 minutes in preheated oven.

Spread apple slices evenly over the baked crust. Then pour the caramel topping over the apple layer. Crumble the remaining crust mixture over the top of everything.

Bake again for 20 to 25 minutes or until golden brown. Cool before cutting into bars.
Note: To make these gluten free use gluten free oats, a gluten free flour blend, and be sure your caramel is gluten free, not all caramel is gluten free.