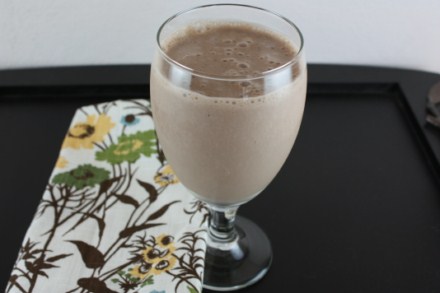 I will start by admitting that chocolate banana smoothies are not the healthiest smoothie, but they are so good. I do make healthy smoothies, but I will admit I also make unhealthy, more dessert like smoothies.
My kids love it when I serve chocolate banana smoothies as part of lunch or even as a snack or dessert. Really, I think my kids would eat these anytime.
I love smoothies because not only do they taste good, they are quick, easy, and frugal.
What is your favorite kind of smoothie to make?

Chocolate Banana Smoothies
1  1/2 cups milk
1  1/2 cups vanilla yogurt
3-4 bananas ( I like these to be frozen because I think they give the smoothie a better texture)
10 ice cubes
chocolate syrup to taste, or use my homemade hot fudge sauce
Mix ingredients together in the blender until smooth or desired consistency.
This post linked to
Frugal Fridays
.