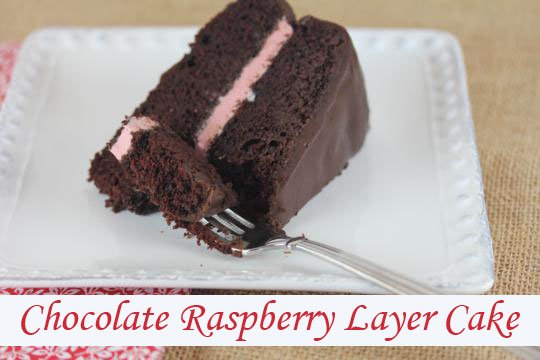 I shared a picture of this cake on my Facebook page when I made it for my daughter's birthday. When I posted it, I said I would share it soon.
Well, that was back in April and here it is May 16th. What can I say except that life got busy and I forgot about it until I saw a picture of it the other day on my computer.
So, I am sorry it took me so long, but this cake is so good that really it was worth the wait. And not only was this cake really good, it was very easy. 
My daughter actually came up with this cake herself. She could not decide on what kind of cake she wanted so she spent some time looking around my site. She came to me and asked if I could combine this cake with this filling and frost it with ganache.
I love that she was creative enough to think it would all go well together. I think she is going to be my child that out cooks and bakes me someday. Her creativity in the kitchen amazes me. When I looked at the recipes she wanted to combine, I knew it would work well.
It turned out great. It was rich and delicious and everything a birthday cake should be.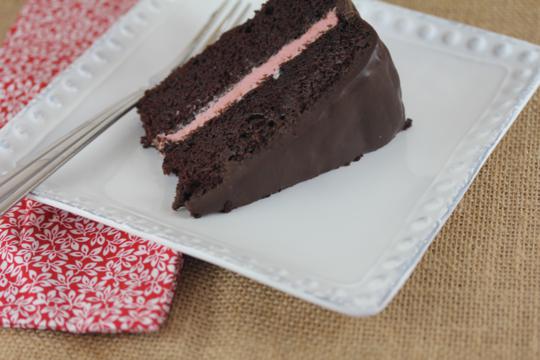 Chocolate Raspberry Layer Cake
Cake
Let cake cool completely before filling and frosting.
Raspberry Filling
2 cups powdered sugar,
1/2 cup (1 stick) softened butter
¼ cup raspberry jam in small bowl;
Beat together until smooth. (A few drops red food color may be added, if desired.)
Ganache
4 ounces semisweet chocolate, coarsely chopped
1/2 cup heavy cream
 Spread raspberry filling over one layer of the chocolate cake. Top with second layer.

Refrigerate for a few hours to let filling set. 

Make ganache by placing

 chocolate in a medium bowl. 

In a saucepan, bring cream to a boil. 

Pour over chocolate; whisk until smooth. A

nd l

et cool about 5 minutes. You want this thick, but pourable. 

Place the cake on a cooling rack, that has been set on a cookie sheet. 

Slowly pour ganache over the cake. I pour a little, wait, pour a little, spread, wait, etc. Until the cake is well covered. 

Refrigerate until ready to serve.