This Friday is our office Christmas party. We do this every year for my husband's staff and their families. Each year I seem to figure out how to better prepare for it. This always makes each year go more smoothly.
This year I decided I had to do more ahead of time. So, I picked mainly candies and easy desserts that can be done a few days up ahead of time. This way the only thing I have to make the day of the party is the appetizers. I think this is going to make the day of the party much easier on me.
While I am busy baking for our office party, a lot of other bloggers are participating in a freezer meal/baking day. I have been baking a lot this week, but I doubt any of it will be left for the freezer.
My main tip for any sort of large baking day is to plan ahead, make lists, and do not shop and bake on the same day. It is much easier to shop one day and bake the next. I did my big shopping for the party on Monday. I spent Monday night, Tuesday, and Wednesday doing most of the cooking. I really helps me if I don't plan to do too much on one particular day.
I try to change the recipes a lot from year to year. This year I am only making one thing that I have made for a previous party. It gives me a chance to try new recipes and keeps everyone from getting tired of the same things year after year. I keep track of everything in a holiday notebook planner.
So, here is the plan of the desserts that I made for the party so far. I will be posting the recipes over the next few weeks.
Easy Truffles- I made two kinds. I did mint and nut truffles
Chocolate Coconut Macaroons
Pumpkin Fudge
Snow Buddies Mix
Easy Peanut Butter Cups
Toffee Peanut Rocky Road Bars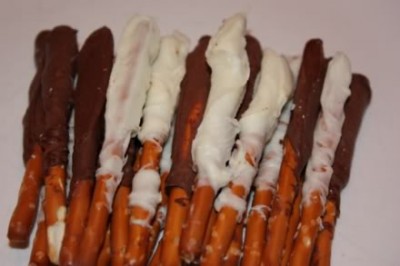 Chocolate Covered Pretzels