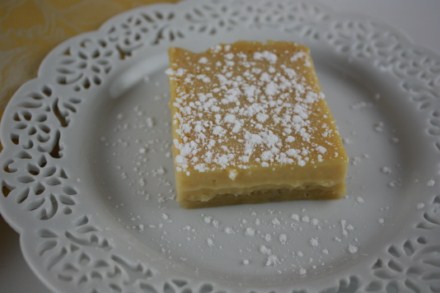 A few weeks ago I made lunch for my husband's staff. I do this every few months for them and everyone enjoys it. I enjoy cooking it, and they all enjoy a home cooked meal that they did not have to make.
When I do this I usually take the opportunity to try a new dessert recipe.
I have a lemon bar recipe that I love, but Martha Stewart has a recipe for Cream Lemon Squares that I have wanted to make for quite some time. I knew by looking at the recipe that it was a richer and fancier version than my regular recipe.
I decided our office lunch would be a perfect time to try it.
This recipe was so good. I actually made two pans, the regular version I am posting today, and a gluten free version, which I will post on my allergy site soon.
I sent these to the office along with the meal and everyone enjoyed them. If you enjoy lemon as much as I do, then this is a recipe that you need to try.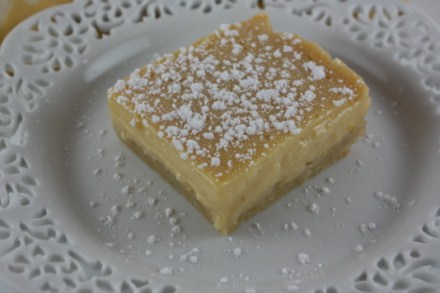 Creamy Lemon Squares
½ cup (1 stick) butter, softened
½ cup powdered sugar, plus more for dusting
¼ teaspoon salt
1 cup all-purpose flour
4 large egg yolks
1 can (14-ounces) sweetened condensed milk
¾ cup fresh lemon juice (from 4 lemons)
Preheat oven to 350 degrees.
Line an 8 inch square pan with parchment paper, leaving an overhang on two sides; butter paper. This makes the bars come out of the pan easier, but it is not necessary.
Cream butter, confectioners' sugar, and salt until light and fluffy. Reduce speed to low. Add flour, and mix just until combined.
Press dough into the bottom and ½ inch up sides of prepared pan. Prick all over bottom with a fork. Bake until lightly golden, 15 to 20 minutes.
Whisk together egg yolks, condensed milk, and lemon juice. Pour over hot crust and bake until filling is set, 25 to 30 minutes. Cool completely in pan.
Cut into squares and dust with powdered sugar for serving.
Enjoy!
This post linked to
The Happy Housewife
.