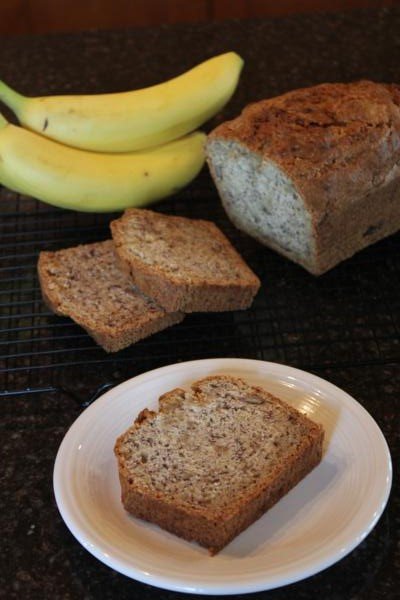 This dairy free banana bread is a recipe I was hesitant to label as dairy free because it is a regular recipe that just happens to be dairy free. This is a banana bread that everyone will enjoy, dairy free or not.
My family has a few favorite banana bread recipes. One is a Martha Stewart banana bread recipe that I have been making for years. It is hands down my favorite banana bread recipe and I shared it just a few months after I started this website. Which means I so need to update the picture in that post. Regardless of the poor quality of the picture though, it is my all time favorite banana bread recipe.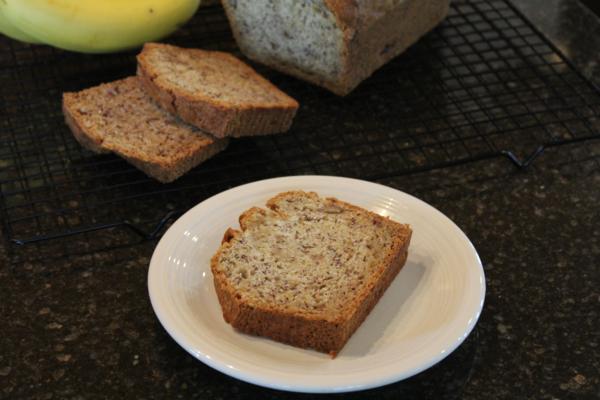 The recipe though contains dairy and my dairy free banana loving daughter has been missing her banana bread. At first I thought it would be easy to find a recipe for banana bread, but I quickly realized that most modern banana bread recipes have butter, yogurt, or sour cream in them. Those things all make for a great moist and delicious banana bread, but sometimes you just need a good dairy free banana bread.
I finally found a recipe on Food Network that contained oil and no dairy. The Food Network usually has great recipes and it had good reviews so with a few minor tweaks we gave it a try. It was delicious! So good. It really is a regular banana bread that just happens to be dairy free.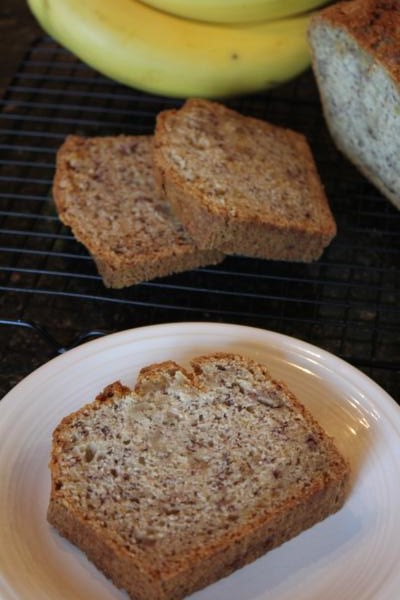 And for those of you needing gluten free and dairy free I have made this with Bob's Red Mill 1 to 1 Gluten Free Flour and it worked great. I also made a version that uses individual gluten free flours and I will share that soon.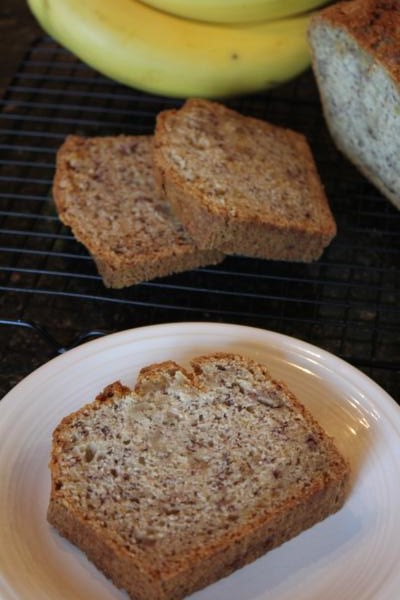 Dairy Free Banana Bread
This dairy free banana bread is a regular banana bread recipe that just happens to be dairy free. It is moist and delicious!
Ingredients
2 cups flour ( Or use Bob's Red Mill 1 to 1 gf flour blend)
1 teaspoon baking powder
1 teaspoon baking soda
1 teaspoon salt
2 eggs
1 cup sugar
3 ripe bananas, mashed
1 teaspoon vanilla
½ cup oil
Instructions
Preheat oven to 350 degrees.
Grease a 9x5 loaf pan and set aside.
In a bowl combine flour, baking powder, baking soda, and salt. Set aside.
In another bowl cream together eggs, sugar, and oil. Add in bananas, and vanilla. Mix well.
Stir in flour mixture just until combined.
Pour batter into loaf pan and bake for 55-60 minutes.
Let set in pan for 10 minutes and remove from pan to wire rack to cool.