Do you ever have days like this?
Well I do! The other day I was in a hurry, trying to do too many things at once, and I dropped a 1/2 gallon of buttermilk and it exploded all over my kitchen. As you can see it made a big mess! I could not even get the whole mess in the picture. Buttermilk was everywhere. It splattered all over the kitchen and I was wiping it off of my cabinets for what seemed like days. (And yes only a blogger would think to take a picture of a mess like this.)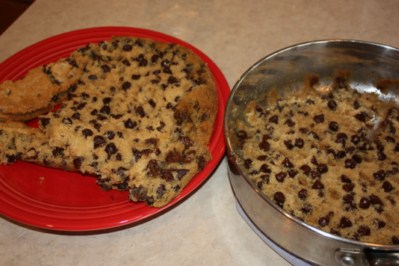 Than I made this not so wonderful cookie cake. I love my giant cookie that I use as a cake, and I miss making it. It usually turns out perfectly and is one of my go to desserts when I need something in a hurry. So, I was trying to make a gluten free version. As you can see the gluten free version did not turn out well. I am thinking the gluten free version needs a little more work. Not only did it look bad, it tasted really bad. The gluten free flours, just did not work well in this recipe. It was definitely a disaster.
So what cooking disasters have you had recently? Please share, so that I know I am not the only one that has them.
This post linked to Friday Fails.