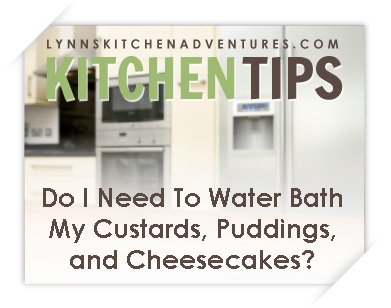 Have you ever read through a recipe for custard, cheesecake, or bread pudding and wondered if you could skip the water bath step? I am guessing that many of you have, because I know that I have been tempted many times to skip that step.
The answer is a mixed one, because yes you technically can skip that step, but the result will be different and not as good. You will still be able to eat the final product, but it will not be as good as it would have been if you did the water bath.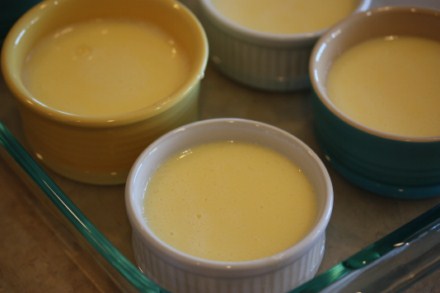 A water bath is simply cooking in water. You do this by placing the dish of custard, pudding, or cheesecake into a large pan that contains about one inch of hot water. You then bake the dish as directed.
The point of cooking in a water bath is to help keep a slow and even temperature around the pudding, custard, etc. Keeping the temperature even and slow gives you a more even texture throughout the dessert.
I helps the edges from getting too done and the inside from not being done enough. It also keeps the dessert creamy and moist.
A dessert like custard, that contains a lot of eggs, may end up with a more curdled texture if you do not do a water bath . And for a dessert like cheesecake, a water bath, helps prevent the top from cracking like many cheesecakes do.
Overall it is worth it to do the water bath step. It is not hard and your end result will be much better.
My thought is this, if I am going to invest the time and money into making a dessert like cheesecake, I want it to turn out the best it can, and using a water bath gives me more consistent and better results, which makes it worth my time and effort.
What are your thoughts on using a water bath for custards, puddings, and cheesecakes?
Looking for a few recipes that use a water bath?
Chocolate Bread Pudding is one of my favorites!
Of course White Chocolate Cheesecake is very good as well.
And Lemon Custard and Chocolate Custard are always delicious!