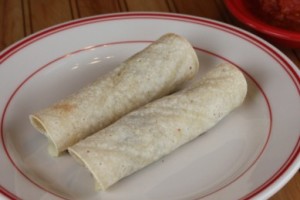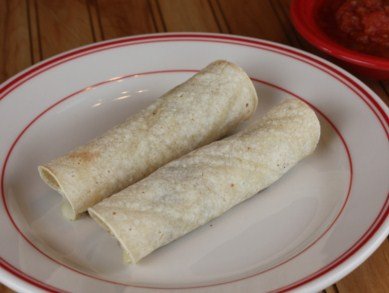 We love taquitos in our house, especially the cheese ones.
I will admit that I have been known to buy those boxes of taquitos in the freezer section of the grocery store. I know they are expensive and not very healthy, but they make a quick and easy, kid friendly meal.
Over the years I have tried to make them at home, but I have had mixed results and have had trouble coming up with a recipe that my family liked.
A few months ago though I came across a recipe on the Martha Stewart site for flautas. The recipe contained a technique that I had not tried before. It had you baking the tortillas and cheese first, than adding the rest of the toppings. You then rolled them and put them back in the oven to crisp up.
I instantly knew that this technique would work well for homemade taquitos.
I do need to research the difference between taquitos and fluatas, because they sound very familiar, if not the same thing. What I am calling a taquito may not be an actual taquito, but we will leave that for another post. For now let's call these taquitos.
I gave this technique a try with just cheese and it worked perfectly. They rolled up great with out splitting and were much healthier than the fried taquitos that I have tried in the past.
Today's recipe is just a basic cheese taquito, but I have been playing around with this recipe a lot lately and have several other versions that I will share soon.
If you are looking for a quick and easy, but also inexpensive lunch or dinner to try, these taquitos are perfect.
Yield: 6 servings
Easy Cheese Taquitos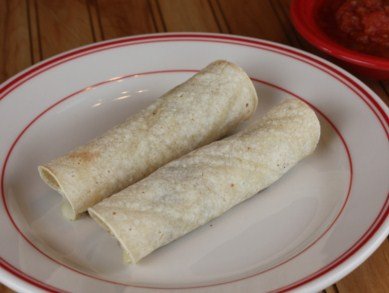 Two ingredients are all you need for these easy to make homemade taquitos
Ingredients
12 corn tortillas ( I used white corn)
1 cup shredded cheese ( We like to use cheddar or colby jack)
salsa for serving
Instructions
Preheat oven to 400 degrees. (Let the oven preheat all the way. A high heat is what makes these work so well.)
Lay tortillas on two baking sheets in a single layer. Depending on your size of baking sheet, you may need to use 3 sheets.
Sprinkle cheese on tortillas.
Bake for 2-3 minutes or until cheese is starting to melt and tortillas are softened.
Remove from oven and carefully roll each tortilla up. These are hot so be careful.
Return to oven and bake for 6-8 minutes or until crisp.
Serve with salsa.
Notes
If you are gluten-free make sure that your corn tortillas are gluten-free.
Nutrition Information:
Yield:
6
Serving Size:
1
Amount Per Serving:
Calories:

182
Total Fat:

8g
Saturated Fat:

4g
Trans Fat:

0g
Unsaturated Fat:

3g
Cholesterol:

19mg
Sodium:

187mg
Carbohydrates:

22g
Fiber:

3g
Sugar:

1g
Protein:

7g
Nutritional values are approximate and aren't always accurate.