I love this pudding. I have been making this for years.
It is so good. Not only is it good, it is a quick and easy dessert.
You can eat this pudding just like it is, or you can use it to make two pies, by serving it in graham cracker crusts.
We enjoy it both ways, but now I serve it without a crust, so that it is gluten free.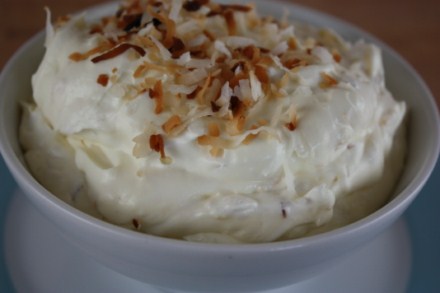 Coconut Cream Pudding
1 ½ cups milk
½ teaspoon coconut extract
1 (3.4 ounce) instant vanilla pudding mix
1 (8 ounce) cream cheese, softened
1 cup coconut, toasted
8 ounce of frozen whipped topping, thawed
In a bowl whisk the milk, extract, and pudding for 2 minutes.
Let stand for about 2 minutes, or until slightly thickened.
In a large bowl, beat cream cheese.
Stir in pudding and mix well.
Fold in coconut and whipped topping.
Chill until ready to serve.